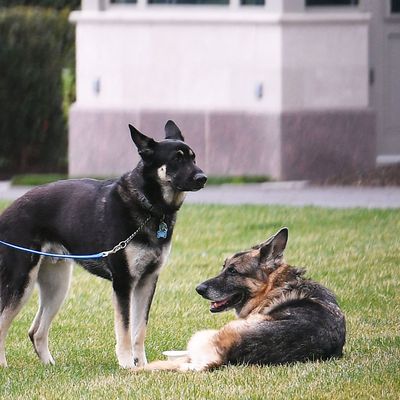 The suspects.
Photo: Mandel Ngan/POOL/AFP via Getty Images
In what may or may not be a media-orchestrated smear campaign, the White House pool reports that a poo incident occurred (probably this morning?) in some of the nation's more hallowed halls. Many correspondents are saying that a pile of feces appeared on the floor outside the Diplomatic Reception Room on Wednesday, and although not a single witness to the crime has come forward, everybody seems to share an opinion as to who did it: either Champ or Major, President Joe Biden's two dogs, who were allegedly seen loitering in a nearby hallway. Admittedly, suspicious!
It remains "unclear which dog was responsible" for the White House Poo Incident, but based on the fact that many reports mention a separate First Pet scandal in the same breath, I can clearly feel which way the wind is blowing.
Major, the younger of Biden's dogs, has recently been sanctioned for two biting incidents. Or that is the narrative we keep seeing in the press, but according to Jill Biden's spokesperson, Michael LaRosa, the issue is really nipping: Major, who is only 3, "nipped someone" — who is fine, by the way — "while on a walk" on Monday, weeks after he "nipped" a Secret Service agent. According to the president himself, Major, who also happens to be a rescue pup adjusting to a new environment full of strangers, has been seeing a trainer to work on this behavior. Really, Biden says, he is a "sweet dog" beloved by "85 percent of the people" but is getting a bad reputation because he is having a somewhat scary time getting his bearings. "You turn a corner," Biden has explained of Major's occasionally defensive posture, "and there's two people you don't know at all."
But as First Dogs go, furtive indoor elimination is not exactly new behavior, although it can be a sign of canine anxiety in house-trained pets. It can also be a by-product of aging, and Champ, it bears noting, is 12. But I am not here to point fingers. I mean, I agree that the Poo Incident is probably (probably!) attributable to one of the dogs, but just … lay off, okay?? They are simply doing their best, as are we all.