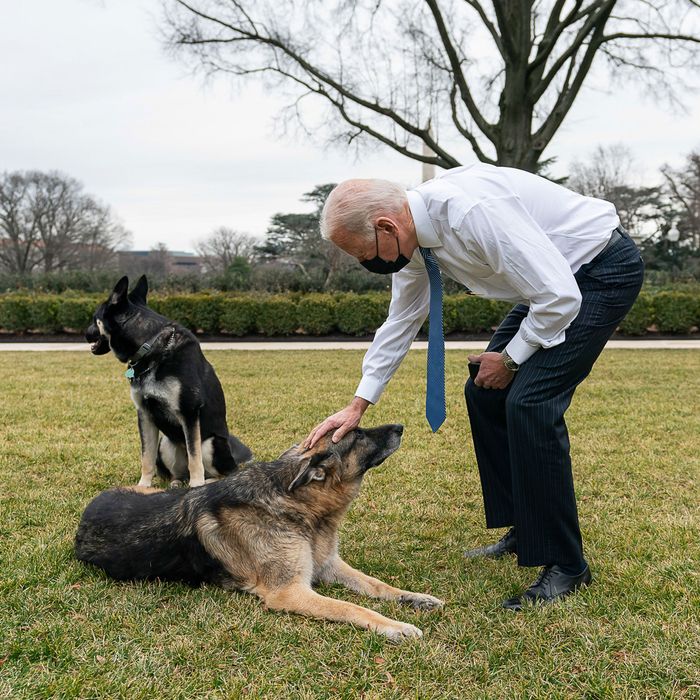 Champ and Major.
Photo: White House/News Pictures/Shutterstock
It appears the First Dogs have made a quiet reentry into the White House, weeks after their removal to Delaware following a scandalous "biting incident." At the time, the perp — Major, a rescued German shepherd who is only three — and his older brother, 13-year-old Champ, were sent home not as punishment, as President Joe Biden subsequently explained, but because he and First Lady Jill Biden would be traveling. And well, yes, to spend some time with a dog trainer to address the aforementioned "B.I."
Anyway, approximately three weeks later, the boys are back in town. On Tuesday, a Reuters White House correspondent shared a photo of a canine specimen, tentatively identified as Champ, taking some air on the Truman balcony. On Wednesday, Jill Biden's spokesperson, Michael LaRosa, confirmed the dogs' return to NPR, while press secretary Jen Psaki told reporters that Champ and Major came back on Sunday, after a weekend at Camp David with their owners. According to Psaki, it will "not be uncommon" for the dogs to commute back and forth between Delaware and D.C.
Also, as Biden clarified in the aftermath of the B.I., Major is a "sweet dog" beloved by "85 percent of the people" who meet him. He's just had a little trouble adjusting to his new home, which is also a large and bustling office. "You turn a corner, and there's two people you don't know at all," the president said on Good Morning America.
Some unnamed informants familiar with the "dog's demeanor" suggested to CNN that Major had a recent history of "jumping, barking, and 'charging' at staff and security," but Biden insisted that "Major did not bite someone and penetrate the skin," only nipped at a Secret Service agent. Per Biden, Major "move[d] to protect," an instinct I'm sure the Secret Service agent can understand.