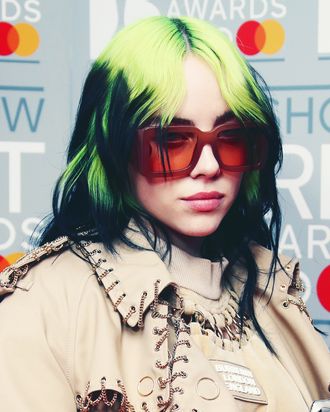 Billie Eilish.
Photo: Mike Marsland/WireImage
On a day where a lot of people elect to wear the color green, cool teen Billie Eilish straight-up deleted the signature slime shade her hair has been wearing since the summer of 2019.
"Pinch me," she suggested in a green-free St. Patrick's day selfie revealing that her neon roots and dark ends — the ones that inspired the runways of Paris Fashion Week — were no more. In their place now lives an Instagram shag haircut and a pair of curtain bangs in bright, bleach blonde.
Generally, people seem to like it. The post broke an Instagram record by reaching one million likes in six minutes.
The change seems sudden since we just saw the green hair alive at the Grammys a few days ago, but fans have been anticipating an Eilish hair change since December, when the singer said she was going to do it following the February release of her documentary. Going from black and green to extremely blonde is no walk in the park, which led many to believe that Eilish's green Grammys hair was actually a well-executed Weekend at Bernie's situation involving a wig hiding beneath a Gucci bucket hat and a bandana before that.
Suspicions were further fueled when screenshots of now-deleted posts put up by Eilish's hairstylist Lissa Renn's surfaced on social media. In them, Renn revealed the whole transformation took six weeks to carry out, meaning we've been Hannah Montana'd since who knows when! Eilish eventually confirmed the wig's existence on TikTok.
Though we didn't get to say a proper goodbye to the real slime hair, we'll always have this very cool doll to memorialize the look. If the stand-in slime wig has been tossed aside, I hope it knows it's not alone, and that it should connect with Ariana's ponytail extensions if it can.
Here's to the beginning of Billie's new blonde era, which already hints at a hopeful spring. Historically, when the celebrities start hitting the bleach, it's a sign that nature is healing.