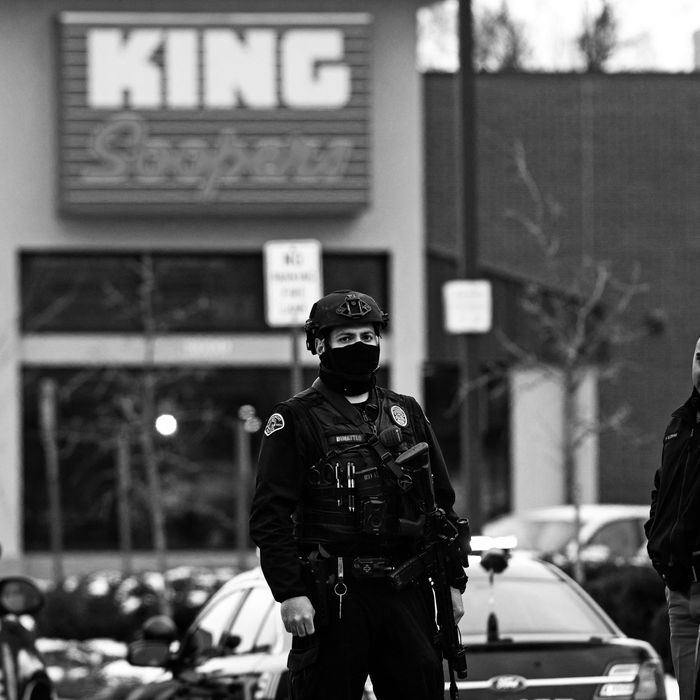 At least ten people are dead following a mass shooting at a King Soopers grocery store in Boulder, Colorado.
Photo: JASON CONNOLLY/AFP via Getty Images
On Monday afternoon, a lone gunman went on a deadly rampage at a King Soopers grocery store in Boulder, Colorado, killing ten people and traumatizing countless others. The tragedy is one of seven mass shootings to occur in the past seven days, and has drawn an outpouring of grief and fury from a chorus of locals, gun-reform activists, and elected officials who are demanding meaningful federal action to combat the country's enduring gun-violence epidemic.
While police have since arrested a suspect — Ahmad Al Aliwi Alissa, 21 — and charged him with ten counts of murder in the first degree, it is still unclear what motivated the gunman.
Here's what we know so far.
On the afternoon of March 22, a lone gunman opened fire in a Boulder grocery store
Around 2:30 p.m. Mountain Time, a gunman went on a killing spree at a King Soopers supermarket in the southern part of Boulder, just a few miles south of the University of Colorado campus.
Ryan Borowski, a licensed massage therapist, was shopping for snacks when he heard gunshots near the frozen-foods section. "I just saw a woman's terrified face coming towards me," Borowski told the New York Times. "I knew to turn and run. It all just blurred together." Sarah Moonshadow and her son Nicolas Edwards, 21, were also shopping at the store when suddenly Moonshadow demanded her son drop to the ground. "We Spider-Man crawled on the floor out of there," Edwards told the Denver Post, and "just ran." Alex Arellano, who was working in the meat department, told the Times, "I thought I was going to die."
While some shoppers and employees were able to flee through a loading dock at the back of the store, per the Times, most scrambled to hide inside the store, where they sheltered in place until law enforcement officials secured the area. Around 6:40 p.m., those who were still inside the grocery store were escorted out by police.
10 people died in the shooting
About six hours after the shooting, Boulder police chief Maris Herold announced that ten people had been killed. At the time, authorities had publicly identified just one victim: Eric Talley, 51, who was the first police officer to arrive on the scene.
During a press conference on Tuesday morning, authorities read out the names of the nine other victims: Denny Stong, 20; Neven Stanisic, 23; Rikki Olds, 25; Tralona Bartkowiak, 49; Suzanne Fountain, 59; Teri Leiker, 51; Kevin Mahoney, 61; Lynn Murray, 62; and Jody Waters, 65.
A suspect has been arrested
In video captured at the scene, two officers can be seen escorting a shirtless and handcuffed man out of the store, who is then taken away in an ambulance. On Tuesday morning, police identified the suspect as Ahmad Al Aliwi Alissa, 21, who is now facing ten counts of murder in the first degree. While Alissa was first taken to a nearby hospital after getting shot in the leg during an exchange of gunfire, he has since been booked into Boulder County Jail.
According to Alissa's arrest warrant, police say he carried out the attack with an assault rifle or "black AR-15," and law enforcement databases show that he purchased a Ruger AR-556 pistol — an assault weapon — on March 16. Just ten days before the shooting, a state district-court judge ruled that Boulder could not enforce its two-year-old ban on assault weapons and large-capacity magazines, which was crafted in the aftermath of the Parkland High School shooting and intended to combat mass shootings.
As of Wednesday morning, authorities have yet to disclose a motive. Meanwhile, personal details about the suspect have emerged. According to a law enforcement official, Alissa's family told investigators that they believed he was suffering from mental illness and that he had delusions that people were following him and hacking into his phone, the Washington Post reports. In 2018, Alissa was found guilty of assault after he threw a fellow high-school student to the ground in class and repeatedly punched him in the head, leaving the student bloody and vomiting. Per a police report, Alissa told officers that the student "had made fun of him and called him racial names weeks earlier."
The mass shooting — the seventh in a week — has elicited an outpouring of grief and prompted calls for gun reform
As early reports of the shooting emerged on Monday, local elected officials assured residents that they were closely monitoring the situation and decried the senseless violence. "Words can do no justice to the tragedy that has unfolded this afternoon," Boulder mayor Sam Weaver tweeted. "Our community will soon grieve our losses, and begin our healing." Governor Jared Polis tweeted, "My prayers are with our fellow Coloradans in this time of sadness and grief as we learn more about the extent of the tragedy."
But in the face of such tragedy — and just days after a man fatally shot eight people, including six Asian women, in Atlanta amid rising violence and discrimination against Asian Americans — many are unsatisfied with just thoughts and prayers.
"Atlanta was a week ago and now it's Boulder," Meredith Johnson, a 25-year-old local, told the Times. "What is it going to be two weeks from now? We're looking at it right in front of us — it's not just something you see on your feed anymore and unfortunately that's just a common experience in America." The issue of gun violence is particularly salient in the greater Denver area, where two students went on a killing spree in in Columbine High School in 1999, where a lone gunman opened fire inside a movie theater during a showing of The Dark Knight Rises in 2012, and where a man went on a deadly rampage at a Planned Parenthood clinic in 2015.
"We mourn with the communities of Boulder and Atlanta after the devastating and senseless mass shooting tragedies in the past week," Shannon Watts, founder of gun-violence group Moms Demand Action, said in a statement. "We can't and won't accept gun violence as just a fact of life in America." Like many other advocates and organizations that have responded to the mass shooting, Watts emphasized the importance of the Senate Judiciary Committee hearing on gun violence that coincidentally occurred on the morning of March 23. "The Senate is now the most important battleground in the fight for federal action on gun safety, and today's hearing is critical to that effort," Watts said. The hearing fell a little more than a week after the House passed two pieces of legislation to combat gun violence, including requiring universal background checks. The bills now face an evenly divided Senate, where they will need 60 votes to pass.
"To save lives and end these senseless killings, we need more than thoughts and prayers — we need federal action on gun safety from the Senate, and we need it now," John Feinblatt, president of Everytown for Gun Safety, said in a statement. "That work begins with this hearing, and we cannot rest until we pass background checks into law."
This post has been updated.