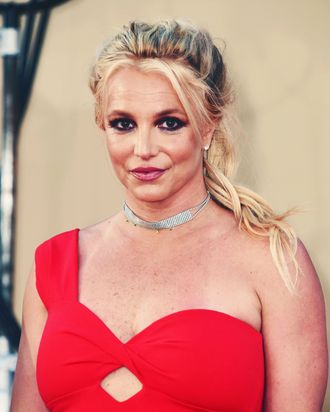 Britney Spears.
Photo: Jordan Strauss/Invision/AP/Shutterstock
When the New York Times documentary Framing Britney Spears premiered in early February, it made a big splash, prompting a reexamination of the relentless and sexist tabloid scrutiny the singer faced from a young age, as well as her ongoing legal battle with her father over the conservatorship of her estate. The film included interviews with journalists and people who worked closely with the pop star over the years, as well as Free Britney activists — fans who advocate for Spears to be released from the conservatorship. However, Spears herself did not participate: The director, Samantha Stark, said they "tried everything" to get an interview with her, without success.
Now, nearly two months after the documentary premiered, Spears has finally spoken out about it. In a lengthy Instagram caption accompanying a video of her dancing to "Crazy" by Aerosmith, the singer says that she didn't watch Framing Britney Spears, but says "from what I did see of it, I was embarrassed by the light they put me in." In fact, she says she was so distraught over the film that "I cried for two weeks and well …. I still cry sometimes!"
"It takes a lot of strength to TRUST the universe with your real vulnerability cause I've always been so judged…insulted…and embarrassed by the media… and I still am till this day," Spears wrote elsewhere in the caption. She concluded: "I do what I can in my own spirituality with myself to try and keep my own joy … love … and happiness ✨🙏🏼 ☀️ !!!! Every day dancing brings me joy !!! I'm here to pass on kindness 💋💋💋 !!!!"
While this marks the first time that Spears has explicitly addressed the documentary, she did appear to respond to it indirectly a few days after it was released. Alongside a video clip from an old performance of "Toxic," Spears wrote on Instagram and Twitter, "Remember, no matter what we think we know about a person's life it is nothing compared to the actual person living behind the lens!" Since then, the battle over her conservatorship — which she has lived under since 2008 and which grants her father control over her finances and personal life — has developed. Just last week, Spears filed an official petition seeking to have her father, Jamie Spears, removed and replaced as her conservator.