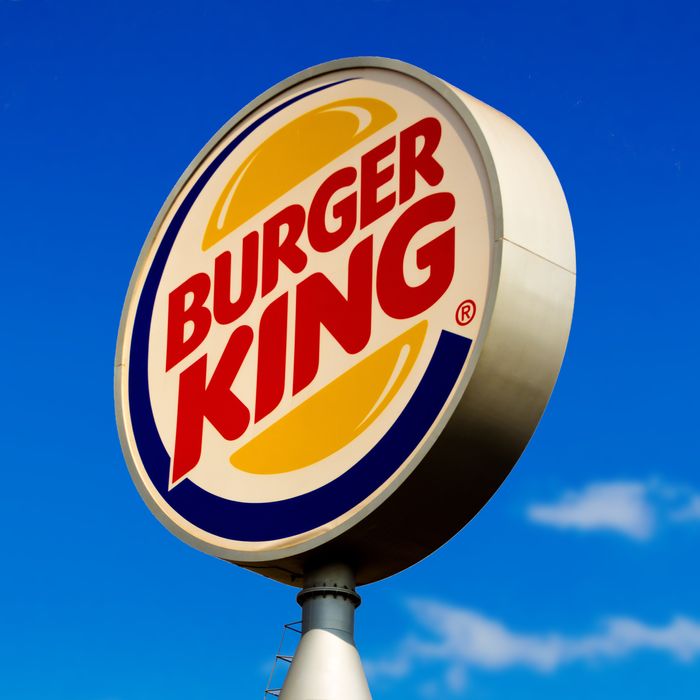 Burger King.
Photo: Rafael Henrique/SOPA Images/LightRocket via Getty Images
International Women's Day: the one day a year when brands can be counted on to shamelessly pander to ladies, reminding us through symbolic gestures that they are here for us. Usually, brands go for supportive messaging. This year, Burger King decided to try out a daring, uncharted approach. On March 8, the brand's U.K. account tweeted, "Women belong in the kitchen."
Unsurprisingly, the tweet was pretty much universally panned by everyone who encountered it yesterday. As it turns out, the brand's U.K. account wasn't trying to perpetuate a persistent and cliché gender stereotype. Rather, the tweet was just the start of a thread in which the brand highlighted the underrepresentation of female professional chefs in the U.K's restaurant industry and introduced its new scholarship program to address those disparities. The offending tweet was apparently intended to be provocative — to grab readers' attention so they would read the brand's entire thread. Somehow, Burger King seemingly didn't anticipate that the first tweet would be shared out of context, overshadowing the campaign.
As Burger King's public-relations crisis mounted, the global CMO for the fast-food chain acknowledged that the rollout of the campaign on Twitter was perhaps ill-advised, though throughout the day, he defended the message of the campaign. But by the evening, the situation had come to a head: The account issued a formal apology and announced that it would be deleting the offending tweet, as "abusive comments" were proliferating in the replies.
"We hear you," Burger King U.K. tweeted. "We got our initial tweet wrong and we're sorry. Our aim was to draw attention to the fact that only 20% of professional chefs in UK kitchens are women and to help change that by awarding culinary scholarships. We will do better next time."
Perhaps next year, the brand can take inspiration from competing fast-food chains and change its name to Wurger Wing (W is for women, obviously) or christen a female mascot. Burger Queen is right there.