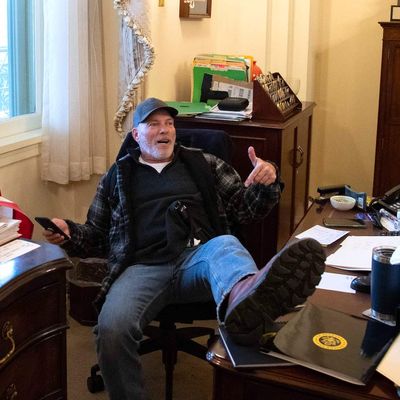 This guy!
Photo: SAUL LOEB/AFP via Getty Images
Nearly two months ago, Richard Barnett was arrested for his participation in the January 6 Capitol riot. You may recognize him as the guy who triumphantly posed for photos with his feet kicked up on House Speaker Nancy Pelosi's desk, and who left her a signed note calling her a "bitch." The FBI took him into custody on January 8, and he remains in jail pending trial — a fact he reportedly considers to be "a bunch of crap."
"They're dragging this out. They're letting everyone else out," this man, who goes by "Bigo," screamed at a hearing today. That's according to the Daily Beast, which described the outburst as a "temper tantrum." The 60-year-old Trump supporter reportedly went on to say that "it's not fair" to keep him behind bars when "everyone else who did things much worse are already home."
According to CBS, at least 132 of the more than 300 people charged have been released, and one participant even saw her pre-trial vacation request granted. (Her long weekend in Mexico was "planned and prepaid," you see.) A federal prosecutor told the Daily Beast that keeping the insurrectionists in custody would be preferable, but many have been allowed out on bond because they allegedly do not pose "a risk of flight or a danger to the community." But Barnett brought along a stun gun, and as the Washington Post reports, he also identified himself on Facebook as a white nationalist ahead of the riot, suggesting he was "not afraid" to die for the MAGA agenda.
In January, Barnett was indicted on seven charges including obstruction of Congress; entering or remaining in a restricted building or grounds with a deadly or dangerous weapon; disorderly and disruptive conduct; and theft of government property. He had turned himself in but pleaded not guilty to the charges, subsequently trying to secure home detention ahead of his trial. A U.S. District judge who reviewed his case deemed him "brazen, entitled, and dangerous," and denied his bid for release. Thursday's complaint that prosecutors "can't keep pushing me out month by month" appeared similarly ineffective. Barnett's next court date is set for May 4.