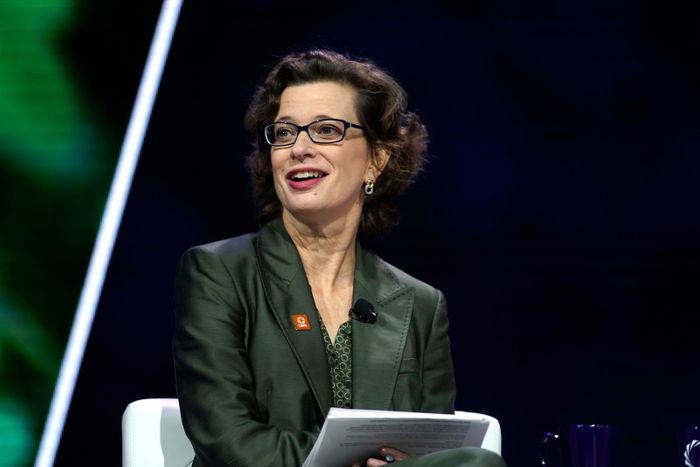 Photo: Riccardo Savi/Riccardo Savi
As president and CEO of CARE USA, the global humanitarian organization that created the CARE Package 75 years ago to send food and supplies to World War II survivors, it's basically Michelle Nunn's job to care. But even if she had some other professional title, it still would be a defining characteristic of the lifelong public servant.
"I would say that volunteering is where I found meaning and purpose, even as a teenager," says Nunn, whose career has included co-founding a volunteer organization, serving multiple times as a nonprofit CEO, and even running for Senate in Georgia in 2014. Through it all, using her entrepreneurial talents to benefit others has been the running theme.
So, with so much to "care" about around the world, what's Nunn been focusing on lately? Her answer: the incredible toll the pandemic is taking on women and children around the globe. "We know that [women] have been essential to our ability to respond to this set of crises," she says. "Kids in every country around the world are having to do virtual school or missing school altogether. I think the important part of this is to ask, 'What are we going to learn from this?' and 'What are we going to take from this?' In terms of a recommitment to gender equality, to an economy of care in which we really look at the way women absorb a disproportionate burden."
Speaking to Nunn, it's apparent that challenges don't throw her off. Ahead of both CARE's 75th anniversary and its "I'm Every Woman" International Women's Day campaign (starring none other than Chaka Khan and Idina Menzel), it almost seems like 2020's daunting revelations have given her a new resolve.
"Well, it feels like a moment for care," she says. "And I mean, CARE with the capital C, and care with the small c, as well." Here's what Nunn had to say about staying focused during the pandemic, reaffirming the world's commitment to gender equity, and yes, what she'd do if she ever really got a break.
We've just been through one of toughest years in recent history. How are you feeling about this year?
Wherever you live, it's been a year full of challenges. And from a CARE perspective — we're marking our 75th anniversary this spring — I often look back to the post-World War II period and the kind of vision that came from a group of people in the United States who said: "We're not going to stand on the sidelines and watch as other people face starvation." And they invented the idea of the CARE Package.
I feel like this moment calls upon us for that kind of visionary generosity. We've seen, in a really stark way, a set of inequities that we have to continue to face. Hopefully we can tackle them with determination and hope, but also with real commitment. Not only to ensure, for instance, equitable access to vaccines around the world, but also the opportunity to look at the systemic challenges that have been further revealed in a powerful way.
Reports have shown that girls and women, especially mothers, have borne the weight of the past year. How has being a working mother impacted the work you do with CARE?
We know that if women and girls reach equality, that we can overcome poverty. And we've seen how the secondary effects of COVID have created a disproportionate impact, in terms of the secondary effects of the pandemic. That's everything from the disproportionate job losses for women who are dropping out of the workforce to gender-based violence and hunger. We know that women are often the last to eat, and they are the last to seek medical care. And yet, they're also at the forefront — 70 percent of women around the world provide the frontline [caregiving]. We are all struggling in different ways around the disproportionate care responsibilities that have been presented to us, based upon the circumstances.
How do you balance the responsibilities of your personal life with the incredibly important and necessary work of CARE?
All working mothers recognize that there's no getting it right all of the time on all fronts. I would be remiss if I didn't mention that I have a husband who does more than his equal share of the housework. I [also] have tried to integrate my kids into the work where I can. I brought my 18-year-old to be the volunteer photographer for a month-long trip that I took to the Middle East in 2019. We invested in that as a family…and we thought that that was a different kind of educational experience.
Looking at your resume, it seems like you've chosen a life of service. Why did you choose this path for yourself?
Well, speaking of our kids, I came to serve through volunteerism when I was a kid. My dad was in the U.S. Senate for 24 years, so I saw the importance of public service and the difference that it can make. When I graduated from college and met a group of people who were starting a volunteer organization, and I jumped right in because I loved the entrepreneurship of giving back.
How do you stay encouraged while doing this work? I'm sure you see a lot that could be disheartening to some.
When you look at some of the big numbers, it is easy to be discouraged. But I am lucky enough to connect with some of the most courageous, brave, extraordinary people around the world who are meeting those challenges [with] indomitable will.
I think about the women in West Africa, [with whom] CARE works. We coordinate the largest micro-savings program in the world, where small groups of women come together to save a little bit of money each week and in turn, loan it out to one another. One of the most recent stories was a woman named Aïchatou Cheitou, who was the president of her small savings group. With all of the loss of livelihoods, issues of hunger, she rallied with others in her group, and they borrowed money and started creating face masks. Now they're producing 10,000 every day, and they have greater financial freedom.
Leading up to International Women's Day, March 8, what hopes do you have for women across the world?
I'll tell a quick story as a way of exemplifying this: I was in Afghanistan a few years ago, and CARE does a lot of work in supporting girls' education there. And we were sitting [with] elementary school children who, for the first time, were getting the opportunity to go to school. Boys on one side, girls on the other, sitting on the floor. They were asked, "What's your favorite subject?" and, "Who's the smartest in the class?" And I sort of thought, "Wow, that's an awkward question."
But a little girl in the very back of the room stood up, walking down as if the sea were parting. Everybody looked up at her, and she presented herself at the front of the room and said, "I'm the smartest in the class." And every single one of the kids nodded and said, "Yes, she's the smartest in the class." That exemplifies what I hope for: that every girl and every woman can realize their full potential.
CARE's #ImEveryWoman campaign is just starting to ramp up. Could you share more on the inspiration behind that?
We're marking International Women's Day with a call to action for women everywhere by honoring women everywhere, and reminding everyone of the power of every woman — the strength, the resilience, and the boldness that they have greeted this past year with. We're trying to imagine what kind of world we need to create for every woman to be valued, heard, respected and celebrated.
As part of the campaign, you're encouraging women to share statements in the form of: "I am _____." How would you fill in that blank?
I am determined. That that's what this moment calls upon [for] so many of us.
This year is CARE's 75th anniversary. How are you and your team preparing for that?
Most Americans send "care packages" or they think about having received a care package, but they don't actually know the history of our "CARE Package." We are proud that it has become an iconic symbol of American generosity. For the first time, we have relaunched our CARE Package in the United States to respond to the COVID-19 crisis. We hope that by the 75th anniversary in May, we will have delivered five million CARE Packages in the form of food or cash assistance to people in need.
More broadly, we're re-imagining the CARE Package. Gone are the cardboard boxes that had Hershey's and canned meat in them, but it's still going to be emblematic of what we need to fight poverty. For example, if you go on our website, we have a CARE Package for education that provides options for adding blackboards in classrooms, or providing remote learning devices for kids.
The work that CARE does is far-reaching and ongoing, but if you could rest for a bit, what would that look like?
This is a fun question. You sort of picture yourself, if you could wave a magic wand. I envision myself in a hammock in a warm, sunny place with a big pile of really great books, and also a very big pile of dark chocolate.
This interview has been edited and condensed.
This advertising content was produced in collaboration between Vox Creative and our sponsor, without involvement from Vox Media editorial staff.