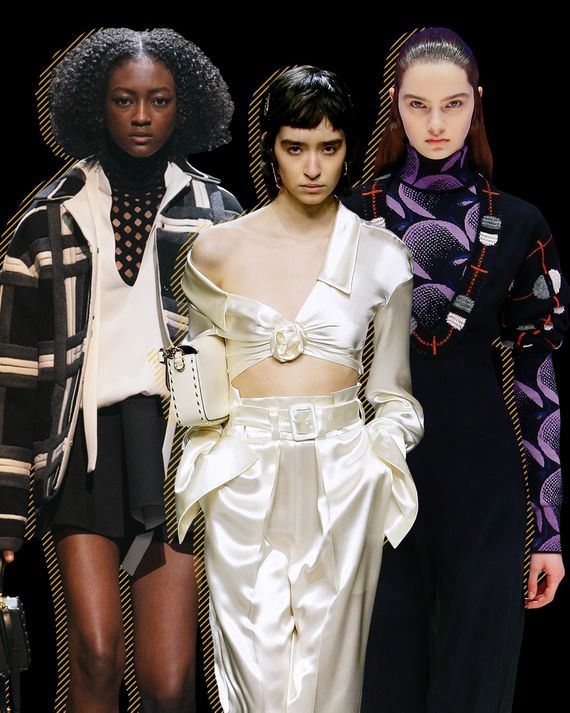 Left to right: Valentino, Fendi, Prada.
Photo-Illustration: The Cut; Photos from left: Courtesy of Valentino, Courtesy of Fendi, Courtesy of Prada
Milan is a company town, the center of Italian fashion and publishing, and it must feel enormously strange to locals not to see editors careening around in black cars or jamming Prada stores. This year in Milan, like everywhere else, the shows were virtual. Yesterday, when I checked out Valentino's Instagram before its show, I noticed that someone had done a kind of product placement at Ranieri, a well-known pastry shop in the city. There, in the window, was a four-tier cake in Valentino-red fondant, with a golden "V" on it. Could there be a better expression of basic human warmth than cake?
That's clearly what Pierpaolo Piccioli, Valentino's creative director, had in mind when he brought his collection to the Teatro di Milano, visibly empty except for a string quintet, the singer Cosima, and, of course, his socially distanced models. To show in Paris, as Piccioli normally does, would have taxed his Rome-based staff because of the COVID-related travel restrictions in place across Europe. The starkness of the theater (a landmark) was a reminder of the losses many have experienced in the past year, while the performance — Cosima opened with Sinead O'Connor's "Nothing Compares 2 U" — seemed as though it was intended to reassert the link between Italian fashion and culture.
It also didn't hurt that the Valentino show, like every other show in Milan, signaled that Italy was back in business.
Indeed, to look at the collections is to be reassured that the Italians are armored in resolve, firm in the belief that they make the best luxury goods in the world, whatever the French might think. Again and again, I was struck by the thought, It's business as usual in Milan. There was Giorgio Armani showing his soft trousers and plain jackets with those classic feminine touches he stubbornly loves. There was Etro with its chic sportswear and distinctive boho prints; Emilio Pucci with its swirls; Ferragamo with its leather and restrained tailoring.
Most brands even stayed with a runway format, despite having no one to parade in front of. Why? Because it's another recognizable form, like the cut of an Armani jacket. Italian designers don't have a problem with this concept — and if you doubt it, look at their palazzos and private islands. Familiarity sells. This season, the talented Francesco Risso tried to do something really wild and crazy at Marni, a riff on lockdown-wear. Designing a fat red puffer that looks like a wrap with wisps of fur at the face was probably fun, but by look 12 — an afghan rendered as a two-piece outfit — I wanted to slip him a Xanax.
As a show, Valentino did feel like an elegy, in part because of the nearly unbroken line of black-and-white clothes (there was a gold leather jacket stuck in there, like the V on the cake). All the same, Piccioli's shapes were archetypes: neat wool blazers and school-uniform flared minis or shorts, masculine white shirts and dresses with frilly tuxedo fronts, and checkerboard patterns. Even laser-cut tops recalled an archetype: Lucio Fontana's precise slash paintings.
Not only did Miuccia Prada and Raf Simons put on a great Prada show, but afterward they assembled a panel of well-known friends and experts, including Marc Jacobs, the director Lee Daniels, and the architect Rem Koolhaas, that appeared on giant screens arranged in a semicircle with the designers. Think of it as the fashion equivalent of an NFL halftime report, with everyone weighing in on the meaning of "Prada-ness." (Jacobs: "It's Mrs. Prada!") It was a little muchness. I guess you could not expect such a lofty forum to have the artlessness of Jodie Foster's Golden Globes moment, in her Prada p.j.'s.
What this collection had, in contrast to the first joint effort of Simons and Mrs. Prada, was more Prada-ness. For me, it came through in the long and loose black dresses, which are mostly made of a sustainable rayon and variously incorporate sleeves or necklines made of patterned knitting or a bold jacquard. There were also expressions of Prada's brand of opulence, veering between decadence and cheapness, though oddly to me, the trappings — sequin-lined fake furs and all-over sequined dresses — seemed occasionally to lurch into Dries Van Noten's domain.
The coats were generally splendid, in particular one in vivid yellow corduroy that, like most of the collection, drew on Simons's impeccable color sense. Many designers do color well, but Simons takes the risks — and they usually pay off in influence. Apart from the dresses and some suits, the main idea was a big coat enveloping a catsuit-sheathed body. That look makes sense, for now, but it would be nice to one day see a more challenging silhouette from the duo. Part of "Pradaness" is surely being confronted with things that are initially difficult to accept.
Other noteworthy collections from Milan were Kim Jones's RTW debut at Fendi, Max Mara, and Zanini. Jones is one the most gifted designers around, and he clearly wants to bring a sensuousness to Fendi, but I can't help but feel that something is messing with his head. Could it be the ghost of Karl Lagerfeld, who designed Fendi for five decades? The sisters Fendi? The orgasmically salty carbonara they serve in Rome? Whatever it is, he needs to jettison it, along with the museum vitrines on his runway, and trust his instincts. I sensed moments of that in his off-the-shoulder draped dresses and his breezy use of pearly silk satin for trousers and a matching little top. But his furs were too conventionally grand.
Okay, things take time. But maybe there's a lesson to be learned from Karl's work in the '90s, when he shaved fur down to the nub: maybe don't love a thing too much.
The more I looked at images of Ian Griffiths's clothes at Max Mara, the more I saw things not found elsewhere — a nice interpretation of a kilt, with a few seams partially opened, well-cut blouson jackets in camel or olive wool layered up with a quilted nylon hunting vest and a slim skirt in the same tones, a full-skirted coat in rich, dark-green velvet with a wide hood (shades of Kidman in The Undoing?) Mostly I liked the fact that Griffiths was secure enough in his choices to go his own way.
Why is it that Marco Zanini's tiny collection made me see a good-looking couple of uncertain gender and age lolling in the sun at a café table? Who are they, and where did they get those fantastic flannels? The answer is that Zanini makes very individual clothes out of the best fabrics, and almost no one does that anymore. Instead, they have brands and make videos. Zanini designed a gorgeous rolled-collar blouse in café-au-lait silk satin with extra-wide sleeves, a perfect pair of gray flannel pants (maybe better than the flannel queen herself, Margaret Howell), and an off-white men's dinner jacket with skinny black pants for girls and guys with Colette in mind. Zanini loves aesthetics, and it shows.