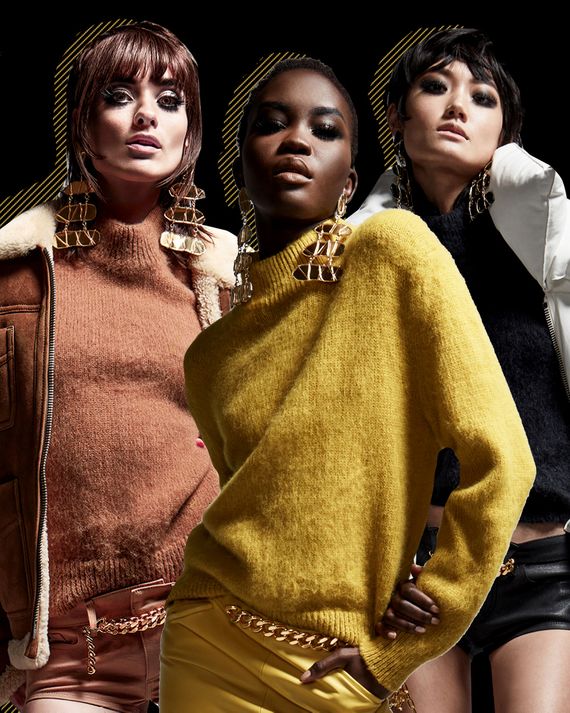 Photo: Courtesy of Tom Ford
Tom Ford's women's collection, released online today and described by the designer as "fierce, powerful, and badass," pretty much conformed to what I expected. Instead of a very individual statement about glamour, it was Ford hedging his bets, offering bomb looks like oversized puffers and big chandelier earrings and then diffusing them with standard tricks — shrinking black leather shorts down to briefs, showing skirts that are "dangerously short," as he noted in an extended caption for his images.
Ford said that when he began designing the clothes, he had figured "that by autumn I would be in the mood for very extravagant, very worked materials and finishes in contrast to" the pull-on basics that many people have worn in the last year. But then he found himself cutting up those looks, separating top half from bottom, and at the same time wanting casual elements like jeans. As he put it, "The slight deconstruction of luxurious pieces is something that I feel will be a legacy of the pandemic for a few seasons to come."
Of course, the pandemic has affected everyone differently, but to me, that sounds like Ford doesn't know what he wants — and that is not how he generally rolls. The strongest looks in the collection were the most formal, sharp-shouldered blazers, because formality is something we've been missing; the jackets were certainly sexy, too. (I wonder if they were the styles that got chopped in two.) The earrings, made of hinged, oblong pieces of mirror and glass, were fabulous. Short, draped dresses with either a keyhole or random squiggles of embroidery in the same tone as the fabric were also new-looking, or least of the moment, which is really the problem with tiny leather shorts.
Because so many designers are creating films to showcase their work during the pandemic, I've half-wondered if Ford the director might do one, too. But perhaps he prefers to keep his movie work separate from his fashion. Among those putting out videos were Catherine Holstein of the New York label Khaite, Jeremy Scott at Moschino, Antonio Marras, and Stuart Vevers of Coach.
The Khaite film, shot by Sean Baker (The Florida Project) around New York, captured a gritty glamour that synced up nicely with the clothes: oversized puffers in white or lipstick red, draped jersey dresses, and very polished-looking leather. Marras cleverly turned Italy's quarantine to his advantage — filming his models in the open, harsh landscape of Sardinia. It brought to life his romantic style. And Scott outdid himself with a salon-style riff on glamour as imagined by a French TV show.
But it is Vevers's Coach TV that shatters assumptions about fashion and film. After watching the fall 2021 installment, I can't imagine Vevers ever wanting to go back to a runway; indeed, I have no fond memories of his Coach shows. They were an orgy of products. But here was Tavi Gevinson, in her driest manner, trying to tempt Wisdom Kaye, a TikTok star, with a Rexy sweater at what seemed to be a celebrity auction. And here was Jennifer Lopez, in a trench coat, belting out a Blondie hit in a phone booth, as if it were the most normal thing.
Of course, the videos are a spoof of fashion as well as the boob tube. But the genius of Vevers and his team — which includes the top stylist Olivier Rizzo, the hairstylist Guido Palau, and the makeup artist Pat McGrath, not to mention the photographer Juergen Teller — is that the clothes and accessories are naturally, and at times goofily, worked into the action. The focus is on the people who wear them dispassionately, and that makes the stuff seem a lot cooler.