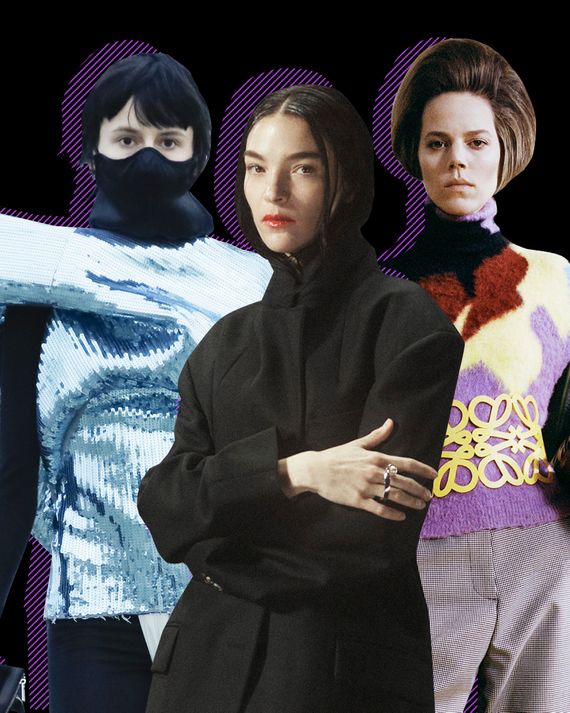 From left: Rick Owens, Dries Van Noten, Loewe.
Photo: OWENSCORP/Casper Serjersen/Courtesy of Loewe
On Wednesday morning, shortly before I was scheduled to talk to Dries Van Noten about his fall collection, his office in Antwerp sent a private link to his video presentation, along with still images and a taped Q&A with the designer. The coffee poured, I typed in the password and began to watch the film, which consisted of a series of quick cuts of dancers and models moving individually—in bursts and leaps or simply walking—on a bare semi-dark stage.
Naturally, I thought of Marc Jacobs's show a year ago, which also used dancers and models and minimal effects and had the 143-person group break the "wall" with the audience. But Van Noten's presentation was wholly different. For one thing, it was not live. It involved far fewer models and dancers — just 46 in all. And it felt less choreographed and, in terms of the clothes and styling, more stripped down. Indeed, as if to heighten the occasional sparks of silver from a stiletto or the red of a glamorous mouth or a sequined top, the clothes were minimally detailed, the hair loose.
A year ago, several critics, including Vanessa Friedman of the New York Times, wrote that Jacobs, by thinking big, had shown what was possible on a runway, and I agreed. But that was then. Van Noten didn't just break away from a tired medium; he transformed the experience of looking at fashion. A few other designers did the same — Stuart Vevers with Coach TV and Jonathan Anderson, who, in a bit of counterintuitive thinking, created for Loewe a 63-page broadsheet newspaper he dispatched to journalists around the world. Called "A Show in the News," the issue feels just like the big broadsheets of yore, before the internet and falling ad revenues caused dailies to shrink — revenues that once came from fashion, of course.
But, for me, Van Noten's work this season belongs in a special category. His aim was to emphasize emotion and movement. As he said, "Being in the lockdown, movement is restricted. You can't go out, you can't go to dance. You also miss contact — hugging people, seeing friends … the whole thing. It's a strange life that we have."
Many designers have stressed movement, but what you often get is a lot of capital-F Fashion and scenery that seems to work against that idea. The critic Rachel Tashjian, of GQ, has already commented this week on the power of Van Noten's images, but I was also impressed by the clothes — the fact that they seemed compact of the feelings that people have about themselves as the world reopens. Do I want to stay a little hidden, wrapped in a plain overcoat? (Van Noten showed one inspired by Joseph Beuys felt. Another style was a good, rumply trench.) Or do I go for more exposure and glamour ? (Say, a silver tinsel knee-length skirt, or a dusty blue shell top in fluffy marabou with a slim tan skirt?)
The point is Van Noten addressed the complexity of feelings that many women have, and it was expressed in both the clothes and in the video and still images. I asked him if he thought something would have been lost if he had been able to stage a live runway show with the same collection and models.
"I think for me, yes," he said. "I'm not saying that I never want to go back to the runway … [But] I'm thinking now, 50 girls of the same size on a catwalk: Is this what fashion is about? Is this what people really want to see now? I think the answer is no." He added, "I think fashion deserves more than something like that."
Rick Owens called his power shoulders "architectural bulldozers" for the body. That seems accurate. Shown outdoors on the Lido in Venice, which is close to his factories, the collection is worth unpacking for its exceptional craftsmanship and new, aggressive vibe. The leather bodysuits looked great peeled down to the waist and left to dangle. Some of the white-fringed pieces looked bear-clawed, while Owens's puffers suggested multiple and decidedly conflicting images — classic couture volumes, fossilized bugs, frightening paramilitary gear.
"From Gaby to Gabi" — that's how Gabriela Hearst framed her debut at Chloé, as a kind of meant-to-be connection to its founder, Gaby Aghion. Hearst also showed outside Brasserie Lipp, the setting of Aghion's early Paris shows. Of course, the link leaves out Karl, Stella, Phoebe, Clare, and the other designers who guided Chloé over the decades. Still, one can't fault Hearst for seeking roots and, perhaps, a fresh start aimed at a slightly older woman. That seemed the direction of this solid if tame debut, the best looks being the knitted ponchos with built-in puffer necklines and the long, floaty white dresses that were vintage Chloé.
"The great thing about this moment," Jonathan Anderson said on Friday, "is that you actually have a load of time to get the thing right. Some of the shapes we did probably had nine fittings. We used to be working on four." The extra headspace gained by not traveling, and the practice he's had at Loewe, must account for this remarkable collection. It's the most interesting and complete that he's done for the Spanish label, which is owned by LVMH. He's taken a classical form like a dark-blue bolero, added a generous heaping of beaded fringe at the hem, and paired it with an asymmetrical skirt that has a zigzagging panel of bright color. If there is a historical reference, it's been swept away by the overall sense of composition and Anderson's full-on use of color and swirling pattern.
Indeed, the collection feels saturated in every sense — from the tones to the crop of new jewelry and shoes, including a chunky clog. It helps, too, that the entire collection was shot on Freja Beha Erichsen in locations like Le Train Bleu, the restaurant in the Gare de Lyon.
"Hedonism is switched on," the Loewe press release toots. Perhaps, but the collection definitely shows how designers can master different ways of expressing their ideas beyond a runway. Instead of the 1,200 writers and influencers who typically receive a press kit, the Loewe newspaper will be sent to more than 300,000 subscribers of dailies like the Times and Le Monde in France.
"Before I woke up this morning, someone I hadn't spoken to in years got in touch and said, 'Oh, I just got your collection in the post,' " Anderson said with a laugh. "It's the best way to get an object out en masse, that could kind of democratize the entire thing that we're doing."