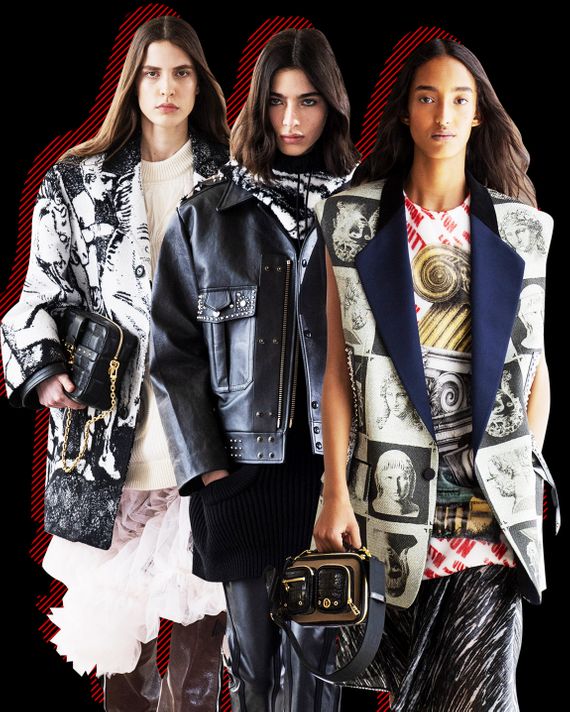 Photo: Courtesy of Louis Vuitton
Let's put aside the "hope and joy" rhetoric that greeted the Louis Vuitton show today and focus instead on a word contained in the press release and in the collection itself:
Conquest.
Yep, that about sums it up. Nicolas Ghesquière held his Vuitton show, as ever, in the Louvre — this time, in the galleries with Greek, Roman, and Etruscan antiquities. Sunlight streamed through the windows as Daft Punk's "Around the World" beeped and whined to only the models and crew. The show ended as a model, with flowing hair and wearing a Roman-style tunic with a Pop Art print of ancient heads, marched up some steps and paused under Winged Victory, one of the most famous statues in the world and, of course, a symbol of military triumph.
Well, I thought, frowning at my computer, that's a bit much. Louis Vuitton, megabrand, at the Louvre. Fashion crashing art and commerce. Plus, the show seemed repetitive — all those puffy jackets and shapeless separates — and then it seemed as if Ghesquière were trying to compete with some 18th-century plutocrat, dragging home all these priceless artifacts from his Grand Tour, except in Ghesquière's case, it was luxury products — bags, shoes, boots that appeared to have gaiters attached. Quite cool, in fact.
On second thought, I understood his mission. This was an explosion of creativity — dare I say, pent-up frustration?— combined with an unruly sense of beauty and glamour that feels right for now. It was a conquest of high fashion over sanity, boredom, men in suits. More than three-quarters of the outfits came with some sort of jacket — bubble, cocoon, big blazer, utility-style vest. Knowing Ghesquière, who often time travels, many of the shapes probably have deep roots in Western fashion. The garments underneath were often schlumpy: sweatshirt-like tops, tunics, floppy pants in the jogging genre. We haven't completely left our homes.
As the show progressed, the patterns and prints became more hectic. Ghesquière collaborated with the Fornasetti studio in Milan — hence the architectural prints, portraits, and key motifs. The Pop Art effect was a brilliant stroke.