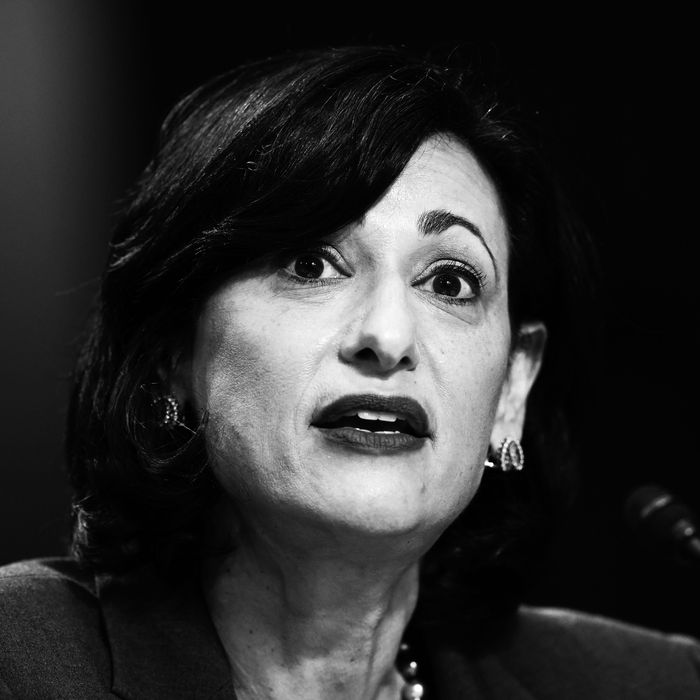 CDC Director Dr. Rochelle Walensky.
Photo: Bloomberg via Getty Images
After an incredibly difficult year with so many needless deaths, there is reason to be optimistic. More than 15 percent of the U.S. population is fully vaccinated against COVID, according to the Centers for Disease Control and Prevention, and President Biden has declared that 90 percent of adults should be eligible for inoculation no later than April 19.
But public-health officials are warning that now is not the time for states to ease restrictions or for the public to abandon preventative measures. COVID cases are yet again rising at an alarming rate across the U.S. — which officials attribute to COVID variants and relaxed restrictions — prompting the head of the CDC to warn that the country is facing "impending doom."
"I am asking you to just hold on a little longer, to get vaccinated when you can, so that all of those people that we all love will still be here when this pandemic ends," CDC Director Dr. Rochelle Walensky said at a press briefing yesterday, during which she appeared to be fighting back tears. The country has "so much reason for hope," she continued, "but right now, I'm scared."
According to data compiled by Johns Hopkins University, the U.S. is now recording a weekly average of more than 63,000 new COVID-19 cases each day, which is a 16 percent increase from just one week ago. When cases rise like they have over the past week, Walensky emphasized during the briefing, cases often "surge and surge big" not long after.
Just hours after Walensky issued her impassioned warning, Biden echoed the importance of continuing to wear masks, calling on governors and mayors that have dropped mask mandates to reinstate them. "The failure to take this virus seriously — precisely what got us in this mess in the first place — risks more cases and more deaths," Biden said at an event, where he also announced increased vaccine eligibility. "We're in the life-and-death race for the virus that is spreading quickly."
"I know you all so badly want to be done," Walensky said. "We are just almost there — but not quite yet."