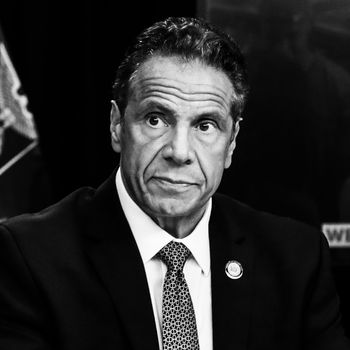 Andrew Cuomo
Photo: Byron Smith/Getty Images
Over the weekend, Charlotte Bennett, a former executive assistant to Andrew Cuomo, accused the New York governor of sexual harassment.
Bennett, who is 25, told the New York Times that she had had a number of conversations last spring with the governor that made her uncomfortable, including when he told her that he was lonely and wanted a girlfriend and asked "if I believed age made a difference in relationships" and "if I had ever been with an older man."
"I understood that the governor wanted to sleep with me and felt horribly uncomfortable and scared," she said.
In a new interview with CBS, Bennett reiterated her accusations and called Cuomo "a textbook abuser." She elaborated: "He lets his temper and anger rule the office, but he was very sweet to me for a year in the hope that maybe one day when he came onto me I would think we were friends or that it was okay."
Bennett told CBS that she believes Cuomo was grooming her and described how he became fixated on her history as a survivor of sexual assault and would repeatedly say to her, "You were raped."
"I think it's really strategic. I think abusers look for vulnerabilities, previous traumas, the idea that maybe I'm more willing to accept behavior because I have a history of sexual violence. Perhaps I'm not as confident in myself because of my history," she said.
Bennett is the second former aide to accuse the governor of sexual harassment. Lindsey Boylan, who worked in the Cuomo administration from 2015 to 2018, has said that the governor sexually harassed her for years, including an incident of forcible kissing. Another woman, Anna Ruch, has said that Cuomo tried to kiss her without her consent at a wedding in 2019.
Cuomo has denied that he ever inappropriately touched or propositioned anyone and said this week that he was unaware that he was acting "in a way that made people uncomfortable."
"I feel awful about it, and frankly, I am embarrassed about it," the governor said Wednesday, but added that he did not intend to resign, despite increasing pressure for him to do so. New York attorney general Letitia James has launched an independent investigation into the allegations.
In response to Cuomo's defense that he was being playful and joking, Bennett said: "I wasn't laughing. And he wasn't laughing."