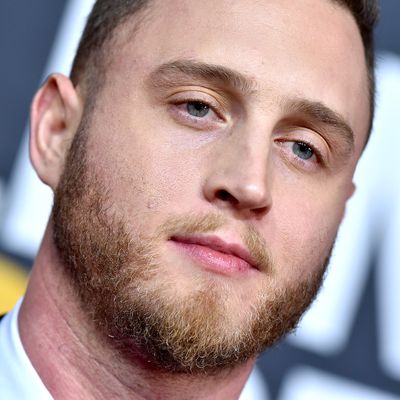 Why, though?
Photo: Axelle/Bauer-Griffin/FilmMagic
It is with an immense sigh — a sigh steeped in exhaustion and regret — that I report: Chet Hanks is talking again, and predictably, the content of said talking is resolutely not-great. Unfortunately, Tom Hanks's adult rapper son has taken it upon himself to decree summer 2021 a "white-boy summer." Hm. It's gonna be a no from me!
"Chet Haze," as he once called himself, made this proclamation on Instagram yesterday. "I just got this feeling, man, that this summer — it's about to be a white-boy summer," he said. Initially, Hanks did not elaborate on what the hell a "white-boy summer" would mean. "Take it how you want," he continued. "I'm not talking about Trump, you know, NASCAR-type white. I'm talking about, you know, me, Jon B., Jack Harlow–type white-boy summer. Let me know if you guys can vibe with that."
Me, personally? I have no desire to vibe with that. Hanks is not Megan Thee Stallion; he holds no power to set the seasonal tone. On social media, expectations for summer 2021 are both high and horny, thanks to promises of increased vaccine eligibility and warmer weather. Hot Girl Summer accurately describes the target vibe, whereas Hanks's proposition carries a distinctly threatening aura. "White-boy summer"? At the suggestion of a man whose famous controversies include repeatedly using, and then defending his use of, the N-word? In the middle of an upward trend in white "male supremacy terrorism"? I think not!
But having seen the splash his proposal made online, Hanks recorded more videos. Briefly reviving the inexplicable Jamaican accent he debuted at the Golden Globes in 2020, he explained his "rules and regs" for "white-boy summer." They are: "No plaid shirts," because the bros "can't be looking like a picnic table out here"; "no Sperry top-siders"; "no calling girls 'smokeshows'"; and "anything salmon-colored … burn that shit." Actually not terrible advice, but in a strange plot twist, it appears Hanks has chosen to leverage his viral moment as promotion for his latest endeavor, theactorsadvantage.com. (See this latest vid.) So I guess … Hot Girl Summer 2 it is!