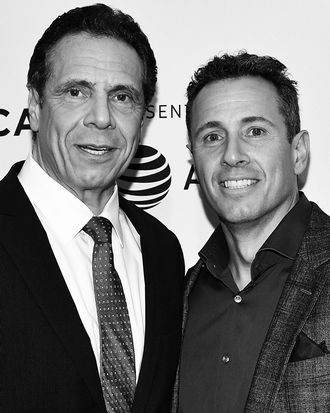 Photo: Dia Dipasupil/Getty Images for Tribeca Film Festival
On Monday, Chris Cuomo — the CNN anchor and younger brother of New York governor Andrew Cuomo — said he would not be addressing the mounting number of sexual-harassment allegations against his brother.
"Obviously, I am aware of what's going on with my brother," the younger Cuomo said at the beginning of his show. "And obviously, I cannot cover it because he is my brother."
He went on to say that while he would not be covering the allegations himself, CNN would continue to do so. "I have always cared very deeply about these issues and profoundly so," he said before moving on to other news.
The anchor's statement comes weeks after CNN announced it would reinstate a ban on Cuomo interviewing his own brother.
It makes sense, of course, that a news anchor would not cover a member of his own family. But, as viewers noted, he wasn't so concerned with keeping his work and family life separate when he was interviewing his brother about the governor's efforts to combat the coronavirus last spring. Governor Cuomo appeared on Cuomo Prime Time on several occasions in March and April 2020, and in addition to news about the rapidly spreading virus, the brothers exchanged banter and loving jabs. "You've always been the meatball of the family," the governor joked to Chris in March of last year.
"I found these interviews to be very entertaining, and perhaps Chris could ask questions of his brother that other people can't," Roy Gutterman, a media-law professor at Syracuse University, told USA Today in February. "But from the very beginning, I thought it was wildly inappropriate."
"It's Journalism 101," Gutterman said. "We tell our students you shouldn't interview your family and friends."
In recent weeks, two of the governor's former aides have alleged that he sexually harassed them at work; one said he forcibly tried to kiss her. (The governor has denied these allegations.) Then this week, a third woman came forward to say the governor had tried to kiss her without her consent in 2019.
The claims came after multiple reports had surfaced about Governor Cuomo's alleged bullying tactics, including an account from Assemblyman Ron Kim, who said the governor had called him at home and told him he would "destroy him" in response to statements Kim had given to the press about the governor's allegedly covering up the true number of COVID deaths among nursing-home residents.