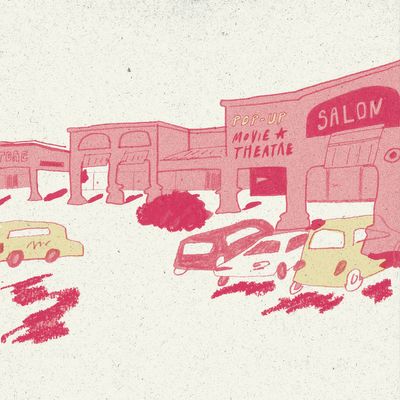 Illustration: by Luci Pina
Listen, I'm not a cinephile. I wouldn't call myself a movie person. But I do miss going to movies. Specifically, going to the small independent theater in downtown Iowa City with my friend Garth. We watched the usual festival fare — indie movies about ordinary lives shifted subtly off course, documentaries about cultural icons or everyday people in far-flung places. We'd go into the theater at 3 or 4 p.m. and then emerge in the early evening. We had dinner and then frozen yogurt, talking over what we just saw and how we wished it had been different.
There was something easy about the spontaneous midweek movie hang, the way a whole day could be taken up once we decided we'd be seeing a movie. We'd grab coffee and talk about books and gossip about writers, the kind of low-stakes scandals of literary media and our small town. We'd walk over to the bookstore and browse, then make our way to the theater to watch a movie. Sometimes, we haggled over who would do the paying, trading off and buying each other's popcorn or fizzy water. I loved how the movie itself was always a little inconsequential to the act of deciding that we'd spend the day together. Well, maybe it wasn't for him. He has real aesthetic principles.
But then this summer I watched, somewhat amused and somewhat horrified, as businesses made half-hearted attempts at normal operations in this weird half-world we live in now. The diner Garth and I used to visit after or before our movies put up plastic screens between tables. Restaurants put out seating outdoors and then, when the snow came, moved it indoors and opted for socially distanced dining. It was all incoherent. There's nothing vaguely acceptable about a waiter wearing a face shield and mask, pretending to be okay and chipper and happy, while they take orders from a group of loud college students, none of whom are wearing masks. I pass restaurants all the time and peek inside at the people, maskless, talking and spraying each other with their breathing.
When I see all that I wonder: How is it possible to watch a movie in a theater and feel safe? I imagine that in the future, movie theaters will become like restaurants if they are not already. That theaters will enforce spaced seating and put up plastic screens, maybe. Mandate masks. Say they clean out the theaters in between showings. And they will do this so that they can continue to be in business. They will do this to entice people to watch movies in theaters again. In New York, movie theaters are already operating with limited capacity. Meanwhile, the main advantage of movie theaters, exclusive access to new media, new content, is eroding with the rise of streaming.
To be frank, this was going to happen anyway. There was absolutely no way that theaters were going to hold on to exclusive access, and the violent jolt of the pandemic has accelerated many trends. I think what we're seeing is an inevitable realignment of a sector of the media industry. Theaters are closing. Disappearing. Going out of business. And with them, whole avenues of access to art and media. It happens all the time. But it still makes me sad, I guess. To think of what might happen to the independent theater downtown.
The easiness of pre-COVID life hinged on the same kind of midweek spontaneity I miss. But what's also eroded is the way we had an easier time making choices in how we consumed art and media without wondering, or having to wonder, how it would affect others in the immediate term. We could go where we wanted and do what we wanted. We saw movies and we ate dinner and we walked across the river and back. It wasn't about the movies exactly. I'm not a cinephile. I'm not even particularly a movie person.
It was about the freedom of seemingly unfettered choice. The freedom from having to think about, I guess, the whole capitalist superstructure of society. And, honestly, that was bad. Fair enough. We should all perhaps be giving at least passing consideration to the ethics of our consumption. The leisure class itself is one of capitalism's more curious illusions, and I am not immune to its rhythms of thought.
I think, even in the post-vaccine world, it will be hard to sit in a room with strangers and feel totally at ease. Before, I was distracted by the construct of movies, every scene dissolving before my eyes into a series of executive decisions that someone somewhere made. In the future, I think I'll be distracted by the closeness of other people. The communal experience of watching a movie in the dark with strangers, that feeling of sharing one's engagement with art, feels freighted now. It's like someone turned the black light on and showed you all the spots and human stains in your bedroom and now you can't ever go back to feeling completely comfortable there. No matter how hard you might try.