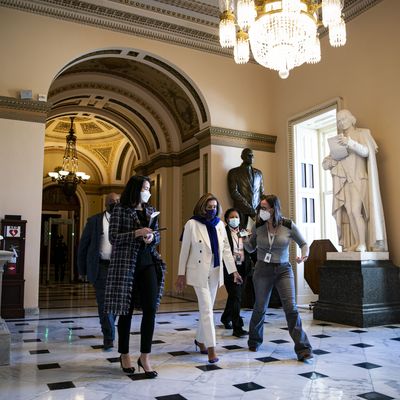 House Speaker Nancy Pelosi.
Photo: Bloomberg via Getty Images
The latest stimulus package making its way through Congress contains significant benefits for families, and low-income parents in particular: For at least the next year, and possibly longer if Democrats have their way, the $1.9 trillion American Rescue Plan would allocate parents a monthly check for each of their kids — "a guaranteed income for families with children," per the New York Times — in addition to a onetime coronavirus relief payment. According to the Center for Law and Social Policy, the provision potentially stands to halve child poverty in the United States.
"The moment has found us," Connecticut representative Rosa DeLauro, who has pushed for a subsidy like this since 2003, told the Times. "The crystallization of the child tax credit and what it can do to lift children and families out of poverty is extraordinary. We've been talking about this for years."
In its current iteration, the child tax credit allows parents to claim up to $2,000 per child on their taxes, in order to receive a refund. Critically, the credit is based on taxable income, meaning that as it stands, the lowest-income families are either ineligible to receive it, or only receive partial benefits. According to the Times, those groups encompass about 10 and 25 percent of children, respectively.
The American Rescue Plan, however, would reconfigure that system to allow claims of up to $3,000 per child ages 6 to 17, and up to $3,600 for children under the age of 6. Rather than dispensing the money as an annual lump sum, payments would arrive monthly. According to CLASP, these changes could mean a 52 percent drop in poverty levels among Black children, a 45 percent reduction for Hispanic children, and a 61 percent decline for Indigenous children. If they are allowed to remain in place after the year is up — which is the outcome a cohort of Democrats, led by DeLauro, is pushing for — CLASP predicts the benefits would be visible for generations to come.
The single-year cost of this maneuver comes in around $100 billion, according to the Times, and would cover 93 percent of kids. By contrast, a 2019 report by the National Academy of Sciences placed the national cost of child poverty's cumulative effects between $800 billion and $1.1 trillion each year. For the U.S. — which has a persistently high child poverty rate, despite being one of the world's wealthiest countries — the expense associated with the stimulus bill seems eminently worthwhile. According to the Center for American Progress, the pandemic has only exacerbated troubling child poverty trends: An estimated 7 million to 11 million children reportedly face food scarcity because their families cannot afford enough to eat. The obligation to fulfill full-time child-care responsibilities has been driving women (particularly Black women) with kids out of the workforce at astounding rates, and soaring unemployment has created barriers and instability when it comes to housing. The Center for American Progress reports that more than four in ten children currently "live in a household struggling to meet basic expenses" as a result of the economic crisis.
The Senate passed the legislation on Saturday, and the House plans to vote this week, giving the president time to sign it before unemployment benefits expire on March 14. Senator Sherrod Brown is among those fighting for the policy to stick: "The day Joe Biden signs this, we begin the campaign to make it permanent," he recently said of the subsidy, according to CNBC. "We're going to find a way."