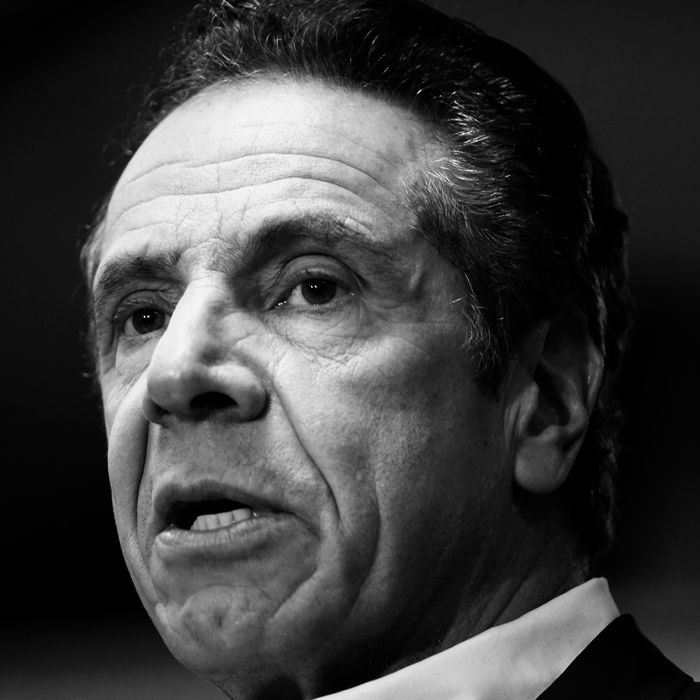 Andrew Cuomo
Photo: Seth Wenig-Pool/Getty Images
Lindsey Boylan, a former aide to New York governor Andrew Cuomo — and the first woman to level misconduct allegations against him — has characterized the work environment Cuomo fostered as one in which "sexual harassment and bullying is so pervasive that it is not only condoned but expected." In a new interview with Ronan Farrow, Boylan shed further light on her experience working in the governor's office and alleged that Cuomo once joked about mounting her like a dog.
According to The New Yorker, the exchange occurred at a press conference in February 2018, when Cuomo was showing off his new Siberian-shepherd-malamute puppy, Captain. At the end of the meeting, Boylan says that Captain approached her and starting jumping up — which, she says, prompted Cuomo to joke that if he were a dog, he too would try to "mount" her. (Per The New Yorker, "A spokesperson for Cuomo declined to comment specifically on the claim, but reiterated Cuomo's denial that he behaved inappropriately with Boylan.")
While Boylan told The New Yorker that she remembers "being grossed out" by the crude remark, she says she wrote it off as "a dumb third-grade thing to say" in the moment. "I just shrugged it off," she said, adding that she had become accustomed to this sort of behavior from the governor. But in the summer of 2018, when Boylan alleges that Cuomo forcibly kissed her on the lips during a one-on-one — which Cuomo vehemently denies — Boylan began looking for other work. (She left her job in the governor's office in the fall of 2018 and is currently a candidate for Manhattan borough president.)
Since Boylan first tweeted in December of last year that Cuomo had sexually harassed her "for years" — which she further detailed in a Medium post published in late February — a growing chorus of women, including many former aides, have accused Cuomo of unwanted touching, subjecting them to invasive questions about their personal lives, making inappropriate comments about their appearance, and intimidation. The allegations have prompted forceful calls for Cuomo to resign as well as an investigation by Attorney General Letitia James and a New York State Assembly–led impeachment inquiry. (The latter will investigate more than the sexual-harassment allegations, including reports that the Cuomo administration obscured the true number of nursing-home deaths during the pandemic.)
Boylan's new interview comes amid reports that close allies to Cuomo schemed to discredit her after she accused the governor of sexual harassment last December. The New York Times reports that after the allegations emerged, Cuomo's team drafted a letter intended to smear her reputation, which attempted to link her to "lawyers and financial backers of Donald Trump," and accused her of "weaponizing a claim of sexual harassment for personal political gain or to achieve notoriety." According to one source familiar with the letter, Cuomo was involved in its creation.
While the letter was never released, advisers reportedly leaked Boylan's personnel files, which included accusations that she had bullied colleagues, some of whom were women of color. Boylan told The New Yorker that she didn't "want to take anything away from a woman that may have had a negative interaction with me" but said she believed the release of the files was part of a blatant smear campaign. (The New Yorker report notes that several of Boylan's colleagues said they found her a "hostile presence" in the workplace, though others disputed this account.)
Meanwhile, Cuomo claims he has never "touched anyone inappropriately" and has signaled that he has no intention of stepping down. Last week, in reiterating his refusal to listen to the growing calls for his resignation, he invoked "cancel culture."