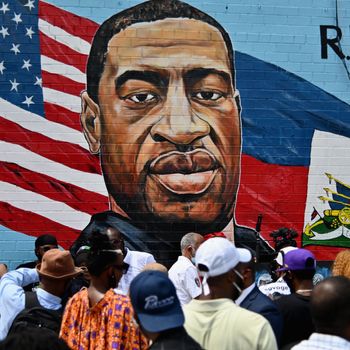 Photo: AFP via Getty Images
On Monday, jury selection was delayed in the trial of Derek Chauvin, the former Minneapolis police officer charged with killing George Floyd after kneeling on his neck for nine minutes while Floyd repeatedly gasped "I can't breathe." The city is teeming with hundreds of protestors eager for justice, while officials have spent months bracing for the kind of civil unrest that broke out in the wake of Floyd's death last May. But Hennepin County district judge Peter Cahill sent jurors home after the prosecution requested a pause while they fight to secure an additional murder charge against Chauvin.
The former officer is currently accused of second-degree murder and second-degree manslaughter, which together could earn him a sentence of up to 50 years. The prosecuting attorneys want to add a third-degree murder charge, which involves killing someone without intent through dangerous actions and a depraved state of mind (a commonly cited example is a suspect firing a gun or driving a car into a crowd). Minnesota is one of only three states in which the charge exists, and in 2017, Minneapolis police officer Mohamed Noor was convicted on this charge after shooting and killing Justine Ruszczyk Damond, who had called 911 to report a possible sexual assault in progress near her home. (Noor is appealing to the State Supreme Court.)
While Judge Cahill has twice dismissed the additional charge, on Friday, the Minnesota court of appeals ordered him to reconsider based on the precedent set in Noor's case. Chauvin's attorney, Eric Nelson, plans to file a petition to review this opinion. And prosecutors say that since the matter is now before the Minnesota Supreme Court, it's unfair to pick jurors without knowing the final charges.
"The State is fully ready to go to trial, but the trial must be conducted in accordance with the rules and the law," Minnesota Attorney General Keith Ellison said in a statement. "Now that Mr. Chauvin has stated his intention to appeal Friday's Court of Appeals ruling to the Minnesota Supreme Court, as is his right, the district court does not have jurisdiction to conduct jury selection or hear and rule on other substantive matters in the trial. We have filed a motion with the Court of Appeals to ensure that justice is pursued properly."
It's unclear for how long jury selection will be postponed; the process was already expected to last a few weeks, given the challenge of finding people who have not yet formed an opinion on Floyd's death after watching the viral video. Any setback in the much-anticipated case that has the potential to hold police officers accountable for unchecked violence has left onlookers frustrated. But legal experts say adding a third charge makes it more likely that Chauvin will be convicted for murder, by giving prosecutors and jurors more options.