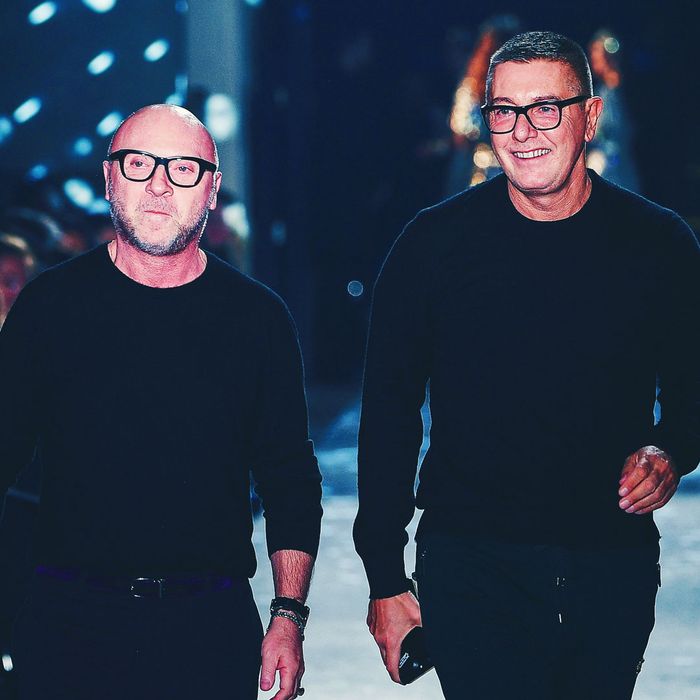 Domenico Dolce and Stefano Gabbana.
Photo: Venturelli/Getty Images
In November 2018, Dolce & Gabbana canceled its Shanghai fashion show after widespread criticism on social media accusing the brand of racism in its #DGLovesChina ad campaign. Among those drawing attention to the ad were Tony Liu and Lindsey Schuyler, founders of the fashion watchdog Instagram account Diet Prada. Yesterday, Liu and Schuyler revealed that they have been battling a lawsuit from the Italian brand since early 2019.
The controversial ad campaign included a video in which a Chinese woman attempts and fails to eat Italian food with chopsticks. It was uploaded on the Chinese site Weibo but removed within 24 hours, though it remained visible on Diet Prada. The account also posted screenshots of anti-Asian remarks seemingly sent from Stefano Gabbana's Instagram account.
Following the viral criticism and the withdrawal of Chinese models and guests from the Shanghai fashion show, Dolce & Gabbana filed an action against Diet Prada's founders in civil court in Milan. Claiming defamation, the suit seeks €3 million for Dolce & Gabbana and €1 million for Stefano Gabbana in damages.
On Monday, Liu and Schuyler filed a defense of their freedom of speech in response to the suit. According to a statement Diet Prada sent to the Cut, Dolce & Gabbana claims that the Instagram account's 2018 coverage of the controversial ad campaign caused the brand to lose revenue and was responsible for other harm.
Both Liu and Schuyler issued statements. Liu said:
As an Asian-American, I'm part of a community that is often misrepresented. Like many people of color in the United States, there's pain that stems from seeing ourselves depicted through inaccurate, harmful stereotypes. Often, it leads to racism and violence.




Growing up as a queer person of color in a predominantly white town, I've often found myself intimidated and at a loss for words when confronted with racism and bigotry. Having cultivated Diet Prada as a platform where stereotypes are laid bare and stories from the larger BIPOC community are brought to the fore, is one of the things I'm most proud of.




For two years, I've stayed silent and carried the burden of this lawsuit on my shoulders. During this time, the world was forced to reckon with the systemic racism in the U.S. that led to the murder of George Floyd and countless other Black lives, as well as the xenophobia that further

fueled Trump's anti-Asian rhetoric in the age of COVID-19. In the outpouring of support for these communities being targeted, we all continue to see the power of solidarity and speaking truth to power. Diet Prada will continue to be a platform to elevate these crucial issues.
Schuyler added:
Diet Prada has made a point to be actively anti-racist for years. As an ally to my Asian friends and the community at large, I was offended not only at the caricatures of China and Chinese people, but also by the misogynistic images associated with them.




As a woman, I believe it is important that media outlets speak out against misogyny as well as racism and are not silenced by legal threats. Discrediting and denouncing the press, charges of "fake news," and a general threatening attitude towards journalists are a breeding ground for danger and a slippery slope toward extremism.




Now is the time for public figures and brands to respond to public opinion and media critiques with progressive action, not lawsuits.
The nonprofit Fashion Law Institute at Fordham is representing Liu and Schuyler pro bono in collaboration with Italian law firm AMSL Avvocati, which is giving the duo a reduced rate. Yesterday, Diet Prada created a GoFundMe to help cover those legal expenses. "We are confident that Diet Prada is on the right side of both law and history," said Professor Susan Scafidi, founder and director of the Fashion Law Institute, in a statement. "And we are honored to help them demonstrate that harmful stereotypes are never in style."
The Cut has reached out to Dolce & Gabbana for comment and will continue to update this post.