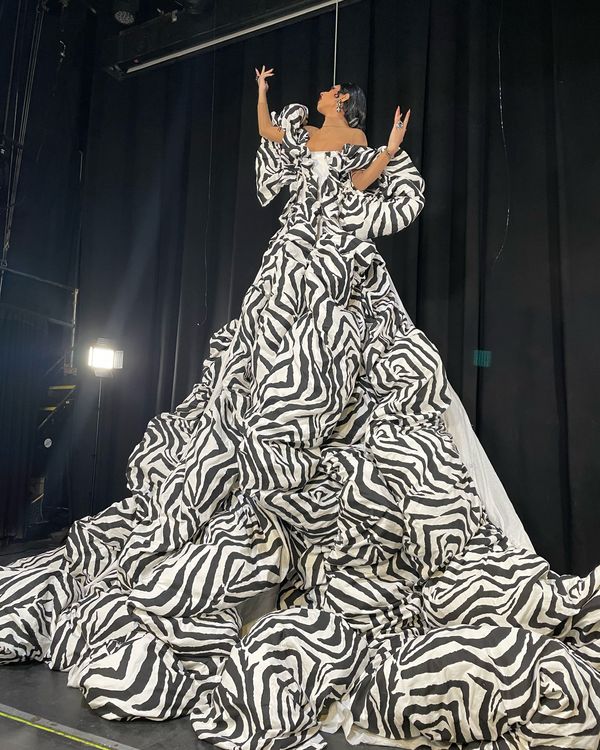 Photo: Courtesy of Chiquitita
Drag is a lot of fabulous things — rhinestones, lipstick, over-the-top costumes pieced together with hot glue guns, and, most importantly, unapologetic self-expression. Still, it rarely overlaps with the painstaking, craftsmanship-obsessed realm of couture. But this past Sunday, one 22-year-old queen pulled off a stunning couture recreation of a Valentino gown.
Chiquitita is a trans El Salvadorian American, Brooklyn-based drag artist who participated in the (deep breath) "Drag Queen of the Year Pageant Competition Award Contest Competition," held by the season-two winner of RuPaul's Drag Race All Stars, Alaska Thunderfuck 5000. It included your usual pageant-y segments like a Q&A and a talent portion, but the eight contestants were also challenged to create looks using zebra print.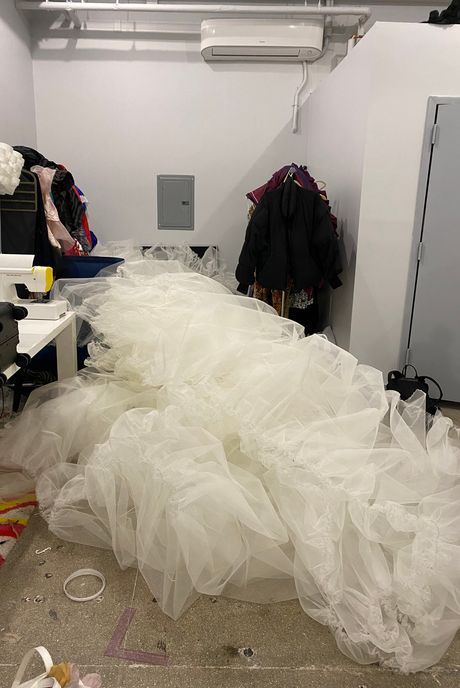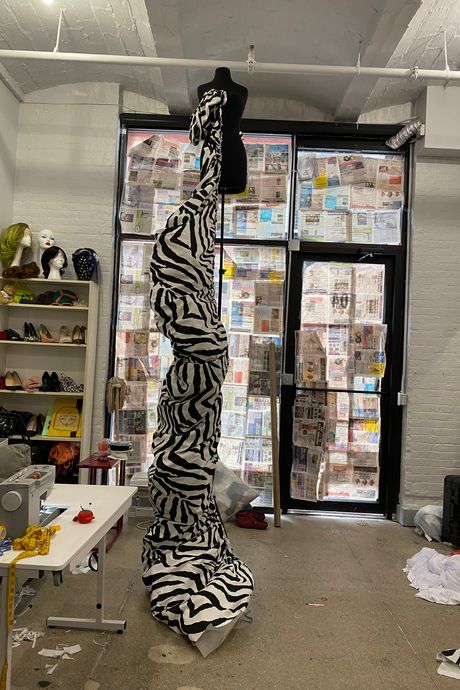 Knowing she had to go big or go home, Chiquitita turned to inspiration from the Valentino fall 2020 couture show, where the models dangled in the air in angelic white gowns that cascaded to the floor. With almost 300 yards of fabric and the help of another drag queen named Serena Tea, Chiquitita got to work. The process basically involved ruching 180 yards of white tulle with elastic, which would then be used as the filler for the ruched zebra-print shell. Chiqui told the Cut that the form was taken from octopi, since several of the "tentacles" were combined to make the final form of the gown, which took about five days to finish.
In the video she submitted to the competition, the towering gown actually came as a surprise. At normal-person height, Chiquitita blows a kiss to the camera, walks over to the gown, puts her arms through its looping sleeves, and is hoisted into the air, revealing the ten-foot-high skirt. "Drag can be couture," she told the Cut. "It can also be monumental … literally."