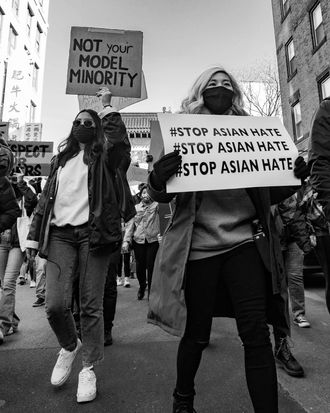 #StopAsianHate protesters.
Photo: Eiko Hiromi/AFLO/Shutterstock
New York Is Committed to Providing Essential Coverage 
We've removed our paywall from this and other stories about acts of violence and racism against Asian communities. Consider becoming a subscriber to support our journalists.
While waiting at a stoplight in San Francisco last week, an elderly Asian woman was punched in the eye — the latest in a string of violent, unprovoked attacks on elderly Asian Americans amid a nationwide surge of anti-Asian hate. While Xiao Zhen Xie, 76, defended herself, she was left with eyes that were so swollen she struggled to see, and her family said she was "very traumatized."
Surrounded by family at her senior retirement home, Xie recounted the incident to CBS San Francisco. On March 17, around 10:30 a.m., Xie was leaning against a pole and waiting for the light to change at Market Street when she was struck on her left eye. Her immediate instinct was to defend herself: She grabbed a small wooden board nearby and "fought back," said her daughter, Dong-Mei Li, who helped with translation. Eventually, medical assistance was called in. In one video captured at the scene by a bystander, Xie can be seen pacing around a small crowd, holding an ice pack up to her eye and sobbing. "Why did you hit me?" she cries out in Chinese, visibly distraught. In the background of the video, the suspect — whose face is bloodied — can be seen handcuffed to a stretcher, being loaded into an ambulance.
The San Francisco Police Department has identified the suspect as Steven Jenkins, 39, who authorities say also attacked an 83-year-old Vietnamese American man named Ngoc Pham while he was shopping at a farmers' market earlier in the day. In the video captured at the scene on Market Street, the suspect's face is bloodied, though police say he was taken to the hospital for "an unrelated, prior medical condition." Jenkins was booked into San Francisco County Jail on two counts of assault likely to produce great bodily injury and two charges of elder abuse, and is currently being held on $50,000 bail.
Xie also required medical attention. According to a GoFundMe, created by Xie's grandson to help cover medical and therapy costs, both of Xie's eyes were swollen and black, one of which was "bleeding unstoppably" hours after the attack. "She has been severely affected mentally, physically, and emotionally," the page reads, adding that she said she was afraid to leave her home.
However, following an outpouring of support, Xie's family said this week that she's now in "better spirits," according to reporter Betty Yu. Xie has also decided to donate all the money raised via GoFundMe — more than $900,000 in donations, as of Tuesday afternoon — to "the Asian American community to combat racism," her grandson says.
It is unclear what condition Pham is currently in, though according to a GoFundMe page organized to cover his medical expenses, his nose was fractured and doctors ordered an MRI on his neck. Nevertheless, he is in "good spirits," reads the page, continuing: "Ngoc has always had a positive outlook on life as a result of him surviving 17 years in a Vietnamese concentration camp." As of Tuesday, the page has received just over $280,000 in donations.
As anti-Asian hate has surged amid Donald Trump's racist coronavirus rhetoric, many within Asian American communities have found themselves struggling with fear and anxiety. Over the past year, reporting forum Stop AAPI Hate received nearly 3,800 reports of anti-Asian discrimination and violence, 68 percent of which involved Asian American women. In the past few months, numerous videos of elderly Asian Americans being viciously thrown to the ground and attacked have gone viral.
Just days before the unprovoked attacks in San Francisco, a gunman went on a deadly rampage across three Atlanta-area spas, killing eight people, six of whom were Asian women. Had police not apprehended the suspect — 21-year-old Robert Aaron Long, who is white and has confessed to the shootings — "it's very likely there would have been more victims," Mayor Keisha Lance Bottoms said in a news conference.
This post has been updated with additional information.