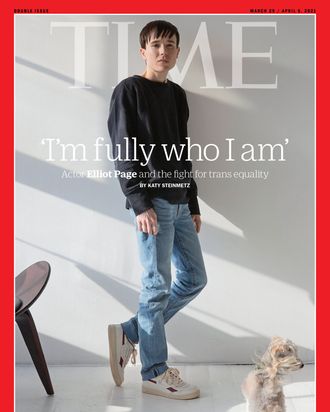 Elliot Page on
Time
magazine's March/April cover.
Photo: Wynne Neilly for TIME
In his first interview since he came out as transgender last December, Elliot Page — who is on the cover of Time's March/April issue — spoke candidly about his experience, telling the outlet, "I'm really excited to act, now that I'm fully who I am, in this body."
In the interview, Page recalls that, as early as age 9, when he was allowed to cut his hair short, he felt like a boy. "I wanted to be a boy," Page, now 34, told the outlet. "I would ask my mom if I could be someday." But when he became a professional actor at the age of 10, he felt that he "had to look a certain way." While coming out as gay in 2014 helped Page bridge some of that disconnect — "the difference in how I felt before coming out as gay to after was massive" — he says "the discomfort in my body" never went away.
Page says that during the pandemic, that disconnect became unbearable. "I had a lot of time on my own to really focus on things that I think, in so many ways, unconsciously, I was avoiding," he told Time. At first, he says he experienced "shame and discomfort" — but was comforted by writing by trans authors and the example of trans icons like Janet Mock and Laverne Cox. "I was finally able to embrace being transgender and letting myself fully become who I am," he said. Page also told Time that he got top surgery, a procedure he described as "not only life-changing but lifesaving," though he stressed that not all trans people undergo surgery, for myriad reasons — it's unaffordable or inaccessible, or they choose not to.
When he came out on social media, he says he received "a lot of support and love and a massive amount of hatred and transphobia." Acknowledging the many ways trans people continue to face discrimination, from access to medical care to the ability to compete in sports, Page said he believes it's his responsibility to use his platform to speak about his experience, both to combat pernicious myths and to serve as an inspiration for others. "My privilege has allowed me to have resources to get through and to be where I am today," Page says, "and of course I want to use that privilege and platform to help in the ways I can."