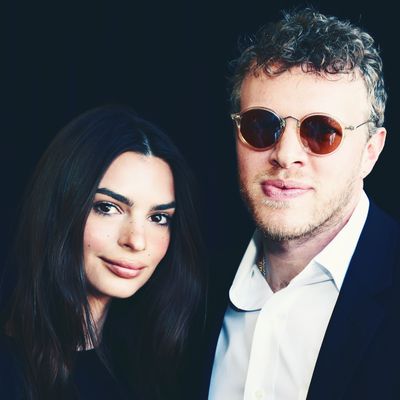 Emily Ratajkowski and Sebastian Bear-McClard.
Photo: Amanda Edwards/Getty Images
Joyous week for EmRata and her strapping man of a husband! In a sweet Instagram post, the model and writer announced this afternoon that she and actor/producer Sebastian Bear-McClard welcomed their first baby earlier this week.
"Sylvester Apollo Bear has joined us earth side," she captioned an intimate photo of her nursing the newborn. "Sly arrived 3/8/21 on the most surreal, beautiful, and love-filled morning of my life."
In the elaborate digital Vogue spread that served as her pregnancy announcement, EmRata shared that she and her husband wouldn't be revealing the baby's sex. "We won't know the gender until our child is 18 and that they'll let us know then," she wrote in an accompanying essay, which published last October. "I like the idea of forcing as few gender stereotypes on my child as possible."
As she writes in the essay, "I want to be a parent who allows my child to show themself to me," though she acknowledges that they'll be "faced with the undeniable constraints and constructions of gender." And certainly — but what loving, supportive parents Sylvester will have. Since EmRata and Bear-McClard got "surprise" married at New York City Hall in February 2018 — after just a few weeks of dating — the couple has seemed very happy.
Anyway, many congratulations! While we can only see the back of Sylvester's head in EmRata's Instagram — and said head is covered by a hat — we presume the baby is very cute and look forward to seeing more photos.