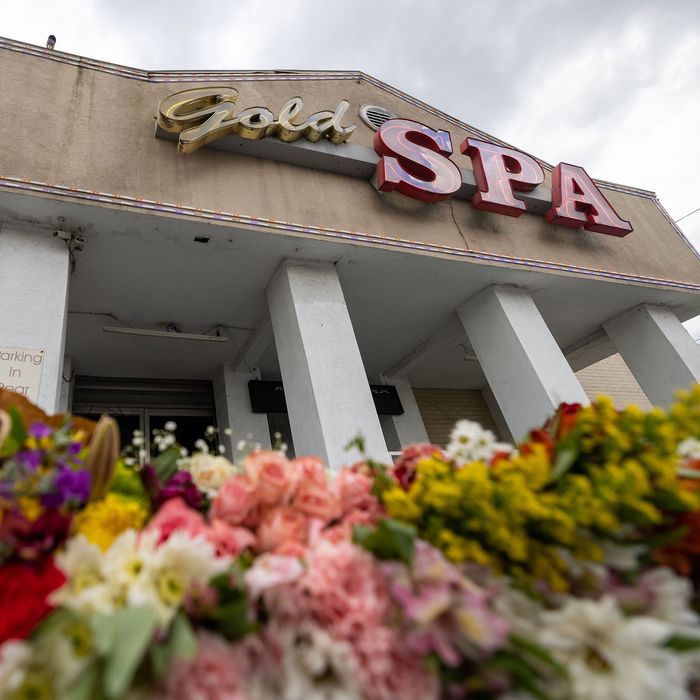 Photo: Nathan Posner/Shutterstock
On Tuesday, 21-year-old Robert Aaron Long shot and killed eight people, six of whom were Asian women, at three Atlanta-based spas. He later told authorities his victims were a "temptation for him that he wanted to eliminate." These murders have sent a chill through the community of massage-parlor workers, many of whom are Asian women and migrant workers. Regardless of the shooter's self-professed motive, these murders are undeniably racist, and coincide with a surge in hate crimes against Asian Americans across the U.S. that has disproportionately affected women.
Intertwined with that racism is the sexism and whorephobia Asian spa employees face. While it's not known if the victims participated in sex work, they were targeted because of the assumption that they did, advocates say. "Even if they were providing nonsexual massages, this ends up being a sex-work issue," Esther K, a co-director of Red Canary Song, a grassroots Chinese massage-parlor worker coalition, told the Guardian. "The women are de facto being seen as sex workers and being scapegoated as such."
These murders raise important concerns about the ever-present danger and discrimination Asian massage-parlor workers face, especially from law enforcement that claims to protect them. The Cut spoke with Elene Lam, the executive director of Butterfly, a Toronto-based support network for Asian and migrant sex workers, about how the women she serves live in constant fear.
How have the community you work with reacted to this horrific news?
Our hearts are breaking. There is a sense of sisterhood, even though the victims were working in different cities. But we shouldn't see this as an isolated incident. This story is getting a lot of attention because eight people were killed at the same time. But physical and sexual violence is always happening to Asian workers in massage parlors. Many are now concerned that after this shooting, there may be copycat crimes. Every day, every year, massage-parlor workers face violence. One woman told me going to work is like going to war — she doesn't know if she'll come back home. She's told her 20-year-old daughter that if she calls her and doesn't say anything, it means she's in danger. Another woman was fined by police for not being properly dressed in public after a client tried to rape her and ripped her clothing. There's an urgent need for action.
Shortly after the shooting, Cherokee County sheriff Frank Reynolds said the attack was not racially motivated, a statement that seemed to embody the mistaken idea that sexism and racism can't coexist. How would you describe the kinds of oppression the women you work with face? 
These women are facing the intersection of racism, sexism, whorephobia, and in some cases anti-immigrant sentiment. We cannot solve the problem by looking at only one issue. A woman's precarious immigration status makes her more vulnerable, so we have to fight against that. There's a long history of racist ideas about Asians that have led to the recent violence. Massage parlors are seen as connected to sex work, and there's whorephobia that makes people think anyone who works in them is a bad woman or a social problem. There are multiple layers of oppression that led to this murder. There are so many invisible guns pointed at these women every day.
The shooter used dehumanizing language about his victims being temptations he wanted to "eliminate." What does this say about the way in which Asian massage-parlor workers in particular are sexualized and discriminated against?
I think we need to start off by saying that people working in massage parlors don't necessarily provide sexual services. Certainly there is a lot of overlap, but even if they do, they may or may not identify as sex workers because there is so much discrimination. So the first issue is that people make this assumption in the first place, which comes from fantasies about Asian women's sexuality. Part of the reason Asian women are fetishized is because we do not recognize their agency. We assume white women have control over their bodies. But we often assume Asian women are passive objects to be used and dominated.
But the focus should not only be on individual clients. The more important issue is that the criminalization of sex work makes it hard for the worker to openly negotiate a service, communicate their boundaries and consent. The problem is with law enforcement.
In the wake of these shootings, the New York Police Department has sent more cops into Asian communities. Many critics of this decision have pointed to the death of Yang Song, a massage-parlor worker who fell from a four-story apartment building window during a NYPD vice sting in 2017. Can you speak more to why increasing policing is a harmful approach? 
It's great that there's so much concern about this issue, but in our experience, more attention leads to more policing and targeted investigations into massage parlors. We are worried — in 2016, almost a quarter of all police investigations in Toronto targeted massage parlors or workers. Law enforcement is a major source of violence, not protection, for people who work in massage parlors. Our recent survey found that more than a third of the women we work with had been abused or harassed by officers. Workers don't feel safe seeking help from police. Often, when they do, the cops call immigration officials and these women face arrest or deportation.
These murders are horrific. But law enforcement and the criminalization of sex work are also killing women by taking away their means of survival and making their work more dangerous. In many Canadian and U.S. cities, massage workers are not allowed to lock the doors to their rooms, which puts their safety at risk. (Toronto nixed this bylaw last year.) One woman, Angel, told me about how a group of men kicked open her door, pointed a gun to her head, robbed and sexually assaulted her. Then there's the criminalization of third-party workers, like owners and managers of massage parlors, which means violent behavior goes unreported and clients aren't screened properly. The police take advantage of the fact that these women face the intersection of racism, sexism, and anti-immigrant sentiment. They are not the solution.
What is the solution? 
First of all, we need to change our perception of Asian massage-parlor and sex workers. I want to emphasize how powerful they actually are. Even with language and other barriers they are still supporting themselves and their families. For many, this is very empowering work. It gives them the ability to connect and help people. They often serve the most marginalized people who can't afford physical therapy. They deserve rights, protection and dignity. I think instead of taking away their jobs, we should be asking how can we support them?
The most important thing is the decriminalization of sex work. We need to remove the over-policing and regulation in the industry. We need to build an alternative to address the safety of the community. We need to oppose the harm of anti-trafficking organizations that are actually religious groups who want to down these businesses for moral reasons. We need to stop conflating sex work with human trafficking, support racial justice, and give migrant sex workers full legal status.