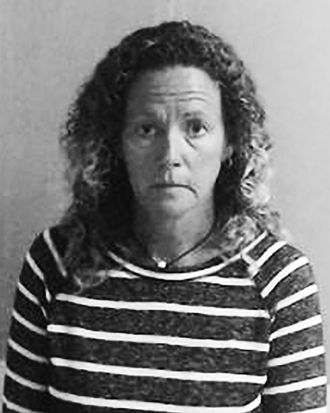 Photo: The Escambia County Department of Corrections
This week, we bring you another installment in the disturbingly entertaining pantheon of scheming high-school-mom stories: The latest tale involves a homecoming-queen contender, election fraud, and, of course, a scheming high-school mom with an indelible mugshot.
Laura Carroll, an assistant principal at Bellview Elementary School near Pensacola, Florida, allegedly conspired with her 17-year-old daughter, Emily, to help her secure the coveted title of 2020 homecoming queen. On Monday, Carroll and her daughter were both arrested on criminal charges by the Florida Department of Law Enforcement.
According to the New York Times, Carroll's school-district login had been used to "gain access to the internal accounts of 372 Tate High [where Emily was a student] students since August." The Times notes that the accounts "include personal information such as students' grades, medical history and disciplinary records." In October, when the homecoming election was taking place, the school district's election contractor contacted administrators to flag that more than 100 homecoming election votes had been cast in a short period of time, all from the same IP address.
Emily apparently didn't take pains to hide her machinations: A student-council coordinator heard her bragging that she had used her mom's login to get into student accounts during the election, and multiple witnesses (including a teacher) told law enforcement that Emily had routinely bragged about using her mother's login. One person said Emily "looks up all of our group of friends' grades and makes comments about how she can find our test scores all of the time."
Although not exactly surreptitious, the scheme was extremely effective, at least in the short term: Emily was elected homecoming queen on October 30. Here's a photo of her coronation:
A five-month investigation ensued. By analyzing IP addresses, investigators determined that 124 votes had been cast from Leah Carroll's phone and 122 from the house where she and Emily lived. Before yesterday's arrest, Emily was expelled in November, and her mother was suspended from her job.
Was the homecoming crown really worth it? We may never know. Reached by phone by a Times reporter asking about the alleged crime, Carroll simply said, "Wow."