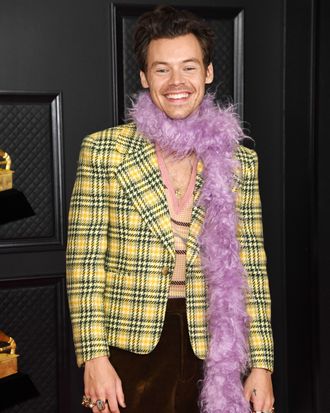 Photo: Kevin Mazur/Getty Images for The Recording Academy
Many incredible musicians were honored at the Grammys last night, but the real winner might have been Harry Styles's feather boa. Harry has become a fashion icon over the past few years thanks to his willingness to play with gender expectations and the sense that he's always having more fun with clothes than anyone else in the room — an impression cultivated by his trusted stylist, Harry Lambert.
Last night, Styles floored fans in a custom Gucci leather suit, flared brown cords, a sweater vest, and a tweed jacket. But most importantly, he wore a feather boa. Actually, he wore a selection of feather boas, possibly inspired by glam 1970s rock star Marc Bolan.
Most of us are used to boas of the cheap, usually costume variety — definitely not typical red-carpet attire. But this boa felt different. It made us realize that we have got to get ourselves a feather boa for spring. Just think of the benefits to wearing one on Zoom: It's hard to miss, it's a conversation starter, and you don't have to worry about shedding feathers anywhere but your own home.
Below, five quick ways to get a boa of your own. (Also, if you truly want to commit to Harry's designer boa look, 16Arlington has one for more than $2,000.)
If You Want to Look Just Like Harry
This green number is a perfect dupe for the one Harry wore to perform "Watermelon Sugar." If you're feeling especially saucy, take a note from the man himself and pair with a leather suit and absolutely no shirt. Who needs a shirt when you have a feather boa?
If You Liked the Black One Best
If color and feathers is one step too far, why not try this black feather boa? It looks like the one Harry wore for his post-Grammy-win interviews, and it's only $4.
If You Preferred Harry's Purple Boa
Although the green boa is getting the most attention, let's not forget about its purple and black counterparts. Harry wore his with a yellow tweed jacket and brown pants — easy!
If You're Looking for a More Everyday Option
If the straight-up boa look is a little intimidating, ease yourself into the idea with this cute fluffy green scarf.
If You Want Your Boa to Feel Fashion-y
This blue situation from the Attico, a brand founded by Italian street-style stars, offers a more elevated take on the look.