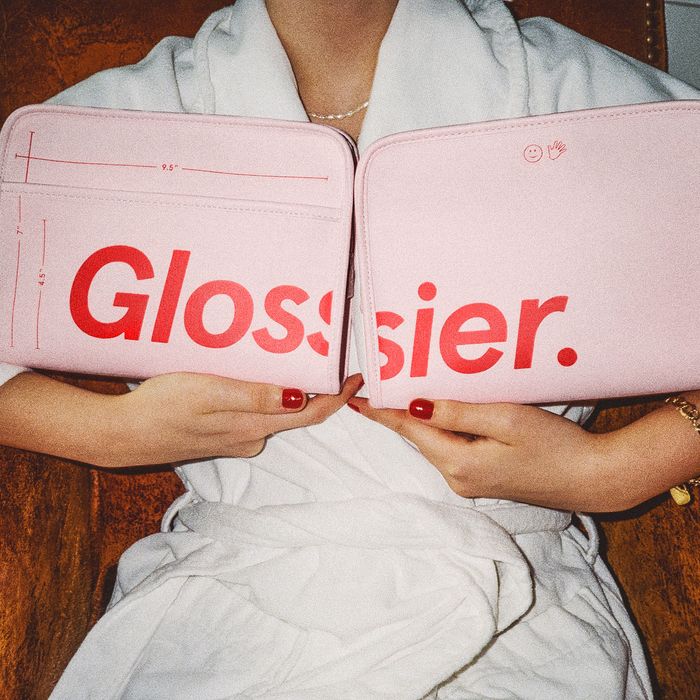 Photo: Courtesy of Glossier
If you've been staring at your crowded medicine cabinet/shower corner/bathroom sink, wishing your pink, photogenic Glossier products had a dedicated home that was equally as pink and photogenic, you're in luck.
Today, Glossier unveiled its newest family member: the Beauty Bag, also known as the sturdier, bigger sister to the brand's famous bubble-wrapped Pink Pouch. Designed to be the Goldilocks carry-all for your beauty routine, it's tall enough to hold skin-care bottles, (a full-size cleanser, moisturizer, sunscreen, and eye cream when standing upright; please reference the red math markings for other product calculations), yet small enough to slip into your handbag or tote when you're going places.
The bag features red soft-pull zipper tabs, a separate zippered front pocket for the tinier things you always manage to lose like tweezers and hair ties, and a red, removable interior pouch with snap buttons and reserved seats for your Cloud Paints, Skywashes, Future Dew, and such. Last but not least, the entire shell is made of coated pink cotton, which means you can take it to all your bathtub photo shoots without worrying about it getting wet and soggy.
If you're ready to move your routine into a new home, you can snag the Beauty Bag on its own for $28. If you need a little more time to decide how you're going to decorate, you can get it partially furnished for a limited time with the Makeup Set, which means your Beauty Bag will arrive with a Cloud Paint, Boy Brow, and Lash Slick ready to nest. And if you're still thinking about squishing a Pink Pouch after you first read "bubble-wrapped Pink Pouch," don't worry, the OG bags will remain an option at checkout with all Glossier orders.
Photo: Courtesy of Glossier
Photo: Courtesy of Glossier