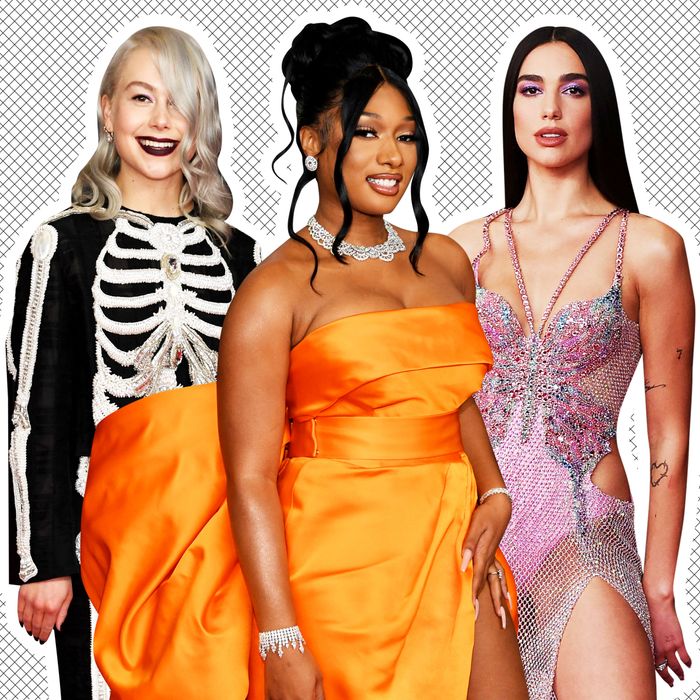 Photo-Illustration: by The Cut; Photos: Getty Images, Shutterstock
Well, the 63rd annual Grammy Awards are finally here, and — shocker — they look a bit different than they did last year. Although not that different, which is pretty wild, given the circumstances. There's still a real-life host: The Daily Show's Trevor Noah. And there will still be plenty of live performances: Bad Bunny, Cardi B, BTS, Billie Eilish, Haim, Dua Lipa, John Mayer, Megan Thee Stallion, Harry Styles, and Taylor Swift are all slated to take the stage — only there won't be anyone sitting in the audience. Noah described the night as a "music-festival-meets-awards-show-meets-special-concert." Winners will accept their awards outside.
Of course, there's also still a "red carpet," although some celebrities will be showing off their looks remotely. Wherever they are in the world, we can always count on Grammy performers and nominees to bring the looks. They've never been afraid to take risks — even before there was an actual risk of going outside. Remember when Billie Eilish wore a Gucci face mask last year? She wore one again tonight, only for a very different reason.
Below, the best, worst, and loudest fashions at the 2021 Grammys.
Hottest Goths: Brittany Howard and Phoebe Bridgers
For the first time ever, all the nominees for Best Rock Performance this year are women, including Brittany Howard and Phoebe Bridgers, who both dressed the part tonight. This is not the first time Phoebe Bridgers has worn a skeleton-y look, but she said she saw this Thom Browne dress forever ago and "thought it was so cool." Agreed!
Comfiest Suit: RM from BTS In Louis Vuitton
Each member of the group wore (and looked great in) their own version of a suit, but RM looked the coziest in a camel-colored hoodie-slash-blazer with a cute little stuffed animal hanging from it.
Most Easily Recreated With Bedsheets: Noah Cyrus in Schiaparelli Couture
She hopped up out the bed, and took the bed with her.
Deepest V-Neck: Doja Cat In Roberto Cavalli
Hopefully, she's not planning on driving a motorcycle in this leather jacket, although the feathers would probably look nice blowing in the wind.
Biggest Bow: Megan Thee Stallion in Dolce & Gabbana
That bow has body-ody-ody-ody-ody-ody.
Best Case for Color of the Year: Haim In Prada
If three's a trend, then this is all the evidence you need. What should we call it? Los Angeles sky?
Best Face Masks: Chika and Billie Eilish
More pastels for spring. The whole matching look is inspiring!
Cutest Hat: Bad Bunny In Burberry
It almost makes you wish winter was longer. Almost.
Best Naked Dress: Dua Lipa in Versace
She's making us nostalgic for Rihanna's "naked dress" but excited for the future of the style. See what I did there?
Most Statuesque: Chloe Bailey, Halle Bailey, and Cynthia Erivo in Louis Vuitton
Even if they don't win a golden trophy tonight, they can at least say they looked better than the award itself.