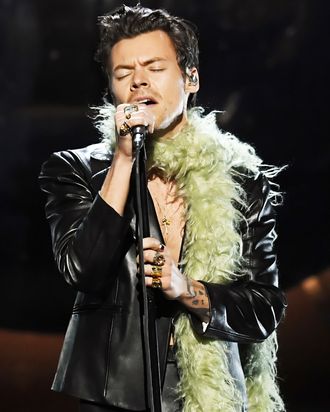 …awooga.
Photo: Kevin Winter/Getty Images for The Recording Academy
As you may definitely be aware, because it's somehow been happening all day but also just started (with a pectoral bang), tonight is the Grammys. The biggest night in music, yes, but also in feather boas — this thanks to our beautiful British sea shell Harry Styles, who opened the show in: (1) a black leather suit, which, (2) he refused to allow a shirt to ruin, and, (3) accented with a chartreuse feather boa. Or, feather may not actually have been the medium; muppet skin sort of looked closer to the mark? Whatever. The point is: awooga.
For his performance of "Watermelon Sugar," Harry — who is himself nominated for three awards this evening, one of which he has already won for a best solo performance of this very song, although somehow not *this* performance — wore custom Gucci per usual, both his flared pants and cropped jacket billed by the brand as "plongé". Which, speaking of, I have not felt such a strong urge to be drowned in a garment since the rising tide of Harry's headstrong trousers threatened to sweep me out to sea. But it was the boa that really deserves the big bonjour.
And an even bigger bonjour to the situation revealed when he ripped the boa from his neck and tossed it to what, in other times, may have been the audience.
Sir! Sir.
Pure eroticism aside, I've received word that a similar purple boa snaked its way onto Harry's neck for the read carpet. So happy in his soft scarf, please look at him.
Just look at him:
Listen, I'm receiving reports that the Grammys are rigged but I'm going to need some kind of award for both of them, please and thanks.