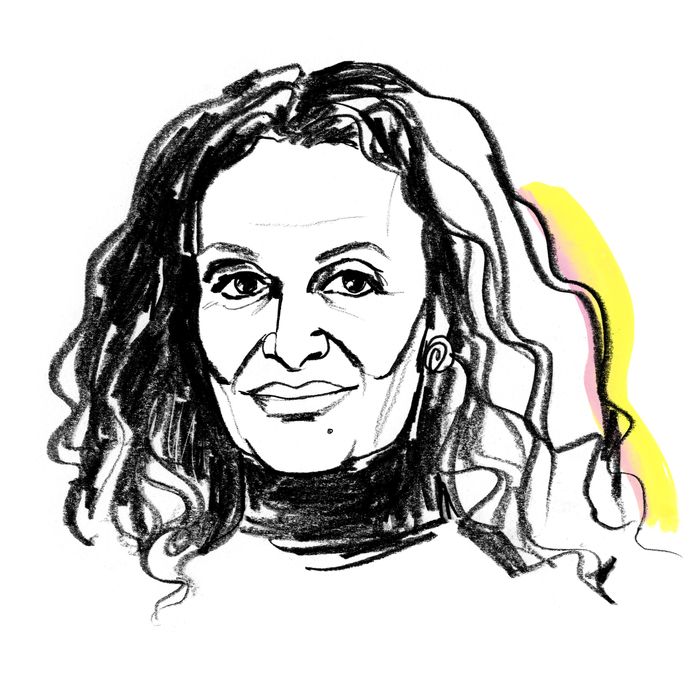 Illustration: Lauren Tamaki
Diane von Furstenberg is a legend in the fashion world, and hardly needs introduction. The designer became well-known in the early 1970s for her printed wrap dresses — now an icon in their own right in fashion history — and went on to establish her namesake brand as a global womenswear empire. She also served as chairwoman of the Council of Fashion Designers of America (CFDA), from 2006 to 2019, and is constantly at work on her philanthropic DVF Awards. These days, von Furstenberg has been spending a lot of time in her Connecticut country home writing her fourth book, Own It: the Secret to Life, which functions as a modern A-Z advice book with short and snappy manifestos. When she isn't reading, writing, and taking long walks with her dog, she is also chatting with fans online. Here's how she gets it done.
On writing her new advice book:
I started writing it, and I found it so boring and so condescending. And I said, "there's no way I can do that." And then I came up with the idea to do it like a little dictionary. I started like that, then COVID happened, and something that was going to be fun, like a gift, all of a sudden became serious. For me, it was just an amazing therapy because I've never gone to therapy, but it made me feel good about myself because I realized that I'm actually coherent. Coherence is very much a part of who I am. I keep on repeating everything I've said that is still valid today. So it made me feel good about myself that at least I was consistent.
It's a lot of procrastination and a lot of incubation, and then all of a sudden it comes. This was months, and it was a different kind of writing. I would just write two words and then stop. Anytime you write, it's always a nightmare. Anytime you write, it's so painful. And then, you go from pain to orgasm, you know, it's the same process as anything else.
On her morning routine:
I try to do emails that do not benefit me [personally] every morning. So for example, I try to use my magic wand. That's what I want to do. And the magic wand is that I can introduce someone to someone else that they would have never had the opportunity to meet, and that will change their lives.
On finding balance: 
This morning I was a little blue, which is a little unusual for me, but then you put your feet on the ground and it goes away. What engages me is to be engaged, you know? I go on long walks. I'm lucky to have a dog, and we go into the woods. I think the thing that has energized me the most is actually staying at home. I've never been home more than three or four days at the time, so I discovered the good side of stillness. I don't really want to scream how easy it is for me to say that I have a beautiful garden, I have a roof, I didn't lose my job, but right now, there's a lot of misery and that's not fun. I do think that every one of us has to reflect and has to try to think, okay, what lesson is there to take from this? And that's why things, like this little book or a cute little saying that people can pick up or give each other … it is both serious and light. It's important to be serious and light. Serious doesn't mean dark, serious doesn't mean boring. Serious means just to pay attention, to pay attention to the world and words. People use words and they don't think about it, but if you think about it, they have energy. And if they have energy, they have power, you know, because you put an intention next to the word or behind the word.
On staying entertained:
I'm always reading so many different things. I just read a great French book about incest. There's a lot on incest right now in Paris going on. I read a book on the history of Rome. That was interesting. I just finished Priyanka's book, which was very sweet. When it's raining, I read a lot and I read so many books at the same time. I read on audio too sometimes. So that's a new discovery. I have an addiction to doing jigsaw puzzles on my iPad, and you can do it with your own photos and it's so much fun. But it makes me feel very guilty that I wasted time, so I've actually been listening to audio books and doing puzzles at the same time.
On social media:
Listen, I find it fun. I find it entertaining. I keep my own little diary on my personal [accounts]. I think it's great. I don't like it when it takes over people's lives. And it's added pressure, you know? But otherwise, you gotta own it. You have no choice. It's part of everything that is happening now, everything from the pandemic to social media, it's a result of where society is going. The pandemic gave us two things: everybody appreciates nature and loves nature more, and on the other hand we've accelerated five to ten years in the world virtually. So all of these are incredible changes.
On staying inspired:
I get inspired by people. I'm very involved in marginal voices and I created the DVF awards [for that reason]. So I'm very inspired by these incredible women that have the strength to fight, the courage to survive leadership. That's inspiring to me, to see the resiliency of certain people.
On her evening routine:
Like everybody else, I've been watching a lot of television. I've had some conversations, with no small talk. I think we've all been relieved from small talk during this time. I've been talking a lot with friends and family, and then I have neighbors, but weirdly enough, I have made some friends over the internet. We would have these long conversations by phone, and we would talk about the words. It's like playing ping-pong. I read an article the other day about me, and I wrote to the girl, and she couldn't believe I wrote to her and we've become friends. So I love that about the internet.
On confidence:
The best tip to truly owning it, is to really have a good relationship with yourself and not be delusional and practice the truth. The most important relationship in life is the one you have with yourself. And once you have that, any other relationship is a plus and not a must, and you never want to be needy.