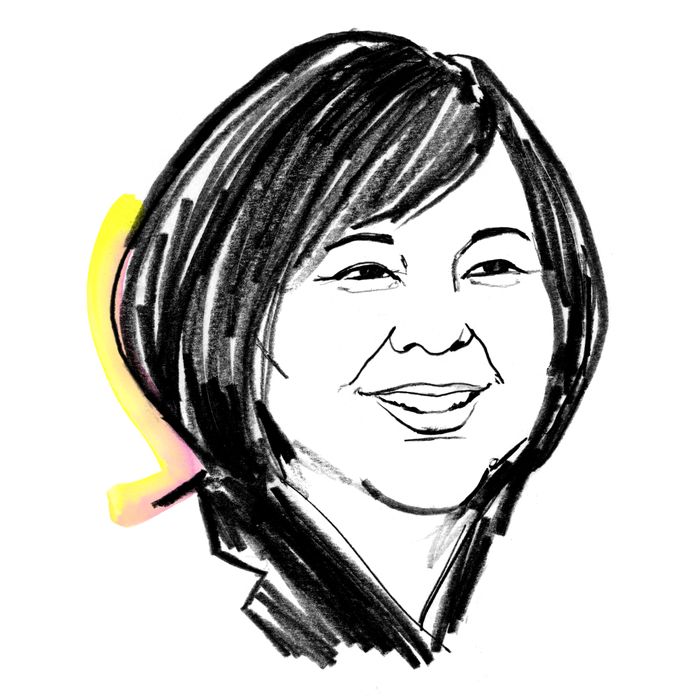 Illustration: Lauren Tamaki
Margaret Huang started college at Georgetown with the intention of being a diplomat and traveling the world. That was until she realized, "I'd have to abide by U.S. policy as a diplomat, and said, 'oh my god I could never do that.'" Instead she focused her attention on international human rights. Then, two major events — 9/11, and the birth of her daughter — caused her to take a closer look at human rights here in America, and ultimately led her to the role she holds today. As the president and CEO of the Southern Poverty Law Center (SPLC), Huang leads the large operation in combating racial injustice in the South and strengthening human rights across the country. Previously, she served as the executive director of Amnesty International USA, and worked as a program director for the Robert F. Kennedy Center for Human Rights. When she's not busy dismantling white supremacy, Huang enjoys her time with her husband and dog at their home in Washington, D.C. Here's how she gets it done. 
On a typical (pandemic) morning: 
I typically am up around seven. I like to take a walk with my dog in the morning. It's my favorite time to walk the dog, even though it's been really cold lately. He often protests when it's raining. Despite that, it's usually a great part of my morning. I'm also trying to do some more meditation in the morning. I've been doing more yoga and a little bit more exercise during COVID-19 than I usually do. Making it a consistent practice is really a big goal, but everyday is different.
On loving her job:
I'm really grateful that I get to wake up every morning and think about how to advance racial justice. Most of my life, I have focused on fantastic missions. I've always worked in the nonprofit-mission-driven arena, but this mission really excites me. I feel so grateful that this is how I get to spend my time.
On managing stress: 
Funny videos! My kids send me funny videos to watch, because they spend a lot more time online than I do. I'll pull up some of their recent videos when I need a break and laugh and that always makes me feel better. We are a dog family in this house, but cat videos are great. Sometimes just people making fun of themselves is really a nice moment.
On self-doubt:
There are times when you get criticism and you can just let it roll right off of you. Then there are times when you get criticism and it really stings. I think it's because that's when you recognize that there are elements of truth in the critique. I try to focus on, "well this is a good opportunity for me to think about how I can learn from that. How do I make changes happen so I can avoid that kind of critique in the future?" Trying to make a constructive effort out of it, rather than wallowing in the "ouch, that really hurt," is a good way forward. When you have a mission like the Southern Poverty Law Center's, how I feel in terms of confidence or doubt doesn't really matter. I have something really important to talk about and really important to share with others.
On the silver lining of working from home: 
I've been able to take a lunch break with my husband almost every day. We've never had a chance to do that before. He used to complain that I wouldn't make time to have lunch with him when I was at the office. So that's actually been a beautiful discovery during COVID-19. I wonder how we'll be able to keep that up when life changes again. I think really recognizing that taking some moment in the middle of the day to reconnect and to hear about things totally unrelated to work is actually a lovely break.
On doing something that you care about: 
You have to pick what's right for you right now. Don't worry so much about where you're going to be in 20 years, because life is going to surprise you with different opportunities. If you'd told me I would be working on issues of racism in the south when I was in college, I would have thought that you were dreaming. Pick something in your life that you want to do, regardless of what the paycheck is, because life is too short. We can't waste it doing stuff that doesn't matter to us. You might as well find something that really does matter.
On the rise of anti-AAPI violence in the U.S.: 
The spate of violent crimes targeting members of the Asian American Pacific Islander community are yet another demonstration of how hate speech and disinformation have incredibly dangerous consequences. No individual or community should live in fear of being targeted for who they are. What's also disconcerting are the incidents where bystanders don't feel compelled to safely intervene or may not even know how.
On her goals at the SPLC: 
We're setting out to figure out how we can lift two million people, or more, out of poverty in our southern states over the next five years. We're also trying to reduce the number of people responding to public opinion polls who adhere to white nationalism ideology. Those are completely different strategies and I don't know how it's all gonna work. I think setting some really big goals, that we can actually measure with real data and real analysis of whether our work is contributing or not, is going to help us move to a much more effective approach to what we're trying to do.
On winding down: 
I read a lot of sci-fi books. I'm a big fan of the show The Expanse. That's been a great distraction. I've also discovered podcasts. One of my favorites is Code Switch. I listen to it pretty faithfully a couple of times a week. We have our own podcasts as well at the SPLC so, of course, I listen and subscribe to that. There's a lot of extraordinarily interesting material out there. I find walking at the end of the day with a podcast going is a very relaxing, distracting way to wrap up my day.