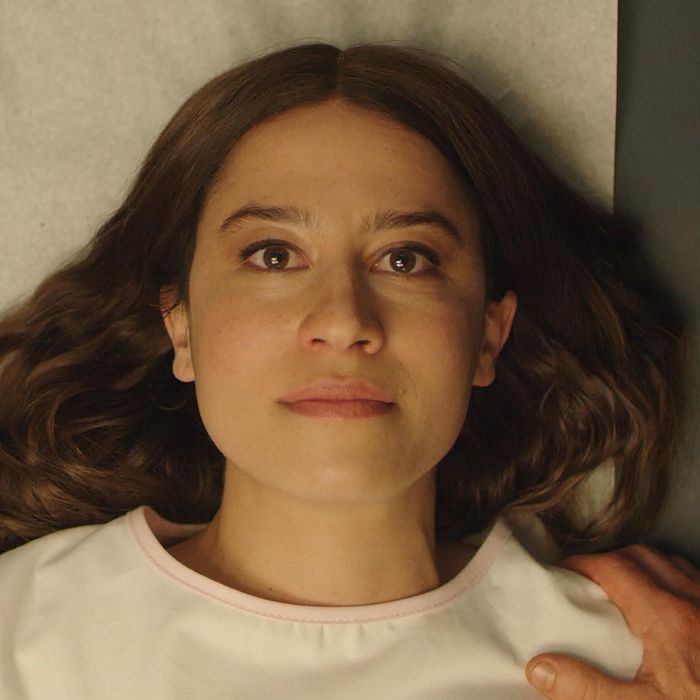 Ilana Glazer plays Lucy in Hulu's
False Positive
Photo: Courtesy of Hulu
It's oddly disconcerting to see Ilana Glazer without her halo of curls, which became so associated with the actor-writer-director when she played Ilana Wexler on Broad City and outside of it. In the opening scene of False Positive, Glazer's new horror film that hits Hulu on June 25, her hair is smoothed out past her shoulders, framing her terrifyingly blood-covered face as she slowly walks down a New York City street. Glazer plays Lucy, an upper-middle-class woman who begins seeking fertility treatments when she and her husband (Justin Theroux) have trouble getting pregnant. Lucy, who works at a boutique marketing firm (her husband is a doctor and Peloton enthusiast), has all the trappings of privileged white womanhood. With her husband's resources and connections, they get an appointment with the most coveted fertility doctor in New York, Dr. Hindle (Pierce Brosnan). When Lucy finally becomes pregnant, she begins to sense something more sinister about the entire process.
Glazer joined writer and director John Lee, the mind behind some of Adult Swim's zaniest cult shows, such as Wonder Showzen and The Heart, She Holler, to collaborate on the film. For Lee, it's an idea that has been percolating ever since his wife suffered a miscarriage ten years ago. "I would talk to some of my friends about having the miscarriage, and people were like, 'We did, too.' I'm like, 'How come no one's ever talking about this?' I really started to examine our lack of empathy and support within our health-care system. We just don't give a shit about mental health. And all those threads started to align," he says.
Lee had directed episodes of Broad City, and he and Glazer had long talked about a future collaboration, so when the series began winding down, they both finally found their opportunity. Glazer was excited to do something different, and what Lee had up his sleeve was a huge tonal shift for her — in terms of both writing and performing.
Exploring larger themes about women's bodies and microaggressions and white privilege was firmly in Glazer's wheelhouse. But playing Lucy was a challenge, not only because of the tone of the film but because of how Lucy is forced to confront ugly truths about herself. "It's not really funny. It's chilling and satirical. Physiologically, playing this role beat me up. But it was correct for this process. It was torturous because the character needed to be tortured." And tortured and tormented Lucy gets. The less you know beforehand, the better. It's a film that doesn't care about genre and instead sprinkles bits of horror, thriller, and social satire all over the place. And for Lee, who is known for making some unsettling stuff, that is half of the point. "I'm drawn toward those things that I'm uncertain about. I think the only difference between horror and comedy is how seriously you take the punch line."
The result is a film that's not easily digestible and will certainly cause conversation. That might be old hat for Lee, but for Glazer, it's something new. "This is the first art that I've made that wasn't blatantly trying to make people happy," she says. "I'm nervous, excited, and inspired to go through this ride. I'm waiting to see how it goes."
False Positive will drop on Hulu on June 25. Check out the first-look images above.