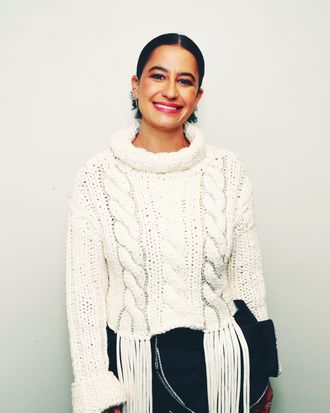 Ilana Glazer.
Photo: Astrid Stawiarz/Getty Images for Glamour
Big news for Ilana Glazer: She's pregnant! The Broad City star shared the news with Entertainment Weekly, which published striking photos of her displaying her bump in a variety of enviable dresses. This will be her first child with her husband, scientist David Rooklin, whom she wed in a secret City Hall ceremony in 2017.
While Glazer didn't disclose how far along she is, the article suggests that her due date just so happens to coincide with the release of her new thriller movie False Positive, which is set to hit Hulu on June 25. She swears the alignment of the dates was not intentional: "This was not supposed to happen this way, but it's just so eerie and cosmically funny that it has."
In the film, Glazer plays a woman seeking IVF treatments. However, beyond being pregnant, Glazer stresses that she doesn't have much in common with the character. Unlike the protagonist of the film, Glazer says, "I don't feel like I'm having the rug pulled out from under me in any way." Instead, she says she's surrounded by "amazing role models for pregnancy and parenthood," and she's "not afraid to ask a billion questions." She continues: "There are certain trends in society of how pregnancy should look — the shoulda coulda wouldas that are put on women all the time but are so amplified in pregnancy. I'm specifically seeking out the most spiritually healthy and welcoming experience."
Congratulations to the parents-to-be!