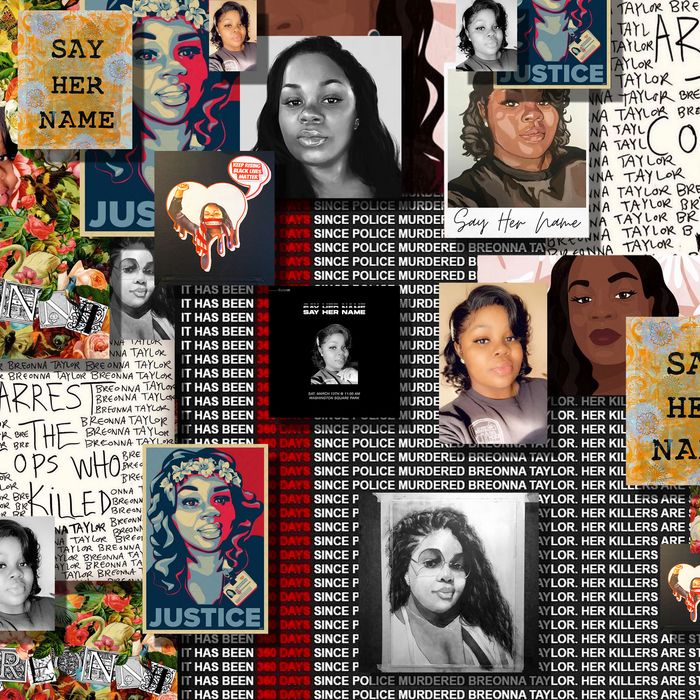 A selection of #BreonnaTaylor artwork shared across the internet.
Photo-Illustration: by The Cut; Images: Instagram
When Breonna Taylor went to bed one night in March of 2020, she did not know it would be for the last time. Just after midnight on March 13, the 26-year-old EMT was murdered in her own home by Louisville police officers, who fired 32 bullets into her house after breaking down the door with a battering ram. Her boyfriend, Kenneth Walker, witnessed the whole scene. Though Breonna was one of nearly 250 Black women who have been killed in police shootings since 2015, her story struck a particular chord with the public. In the past year since her death, Taylor's image has been revered, warped, and put back together again — often by strangers on the internet.
In the immediate aftermath of her death, Breonna Taylor's family, friends, and supporters attempted to garner attention by posting to social media, fundraising, and starting a petition to fire the officers who killed her. But the world was consumed by the pandemic, and for the most part, Breonna Taylor's murder did not receive mainstream attention until the Black Lives Matter uprisings started in full force in June of 2020, after George Floyd was killed in Minneapolis. Around this time, several major publications including Time magazine and the Guardian picked up the story. In June, the journalist Cate Young held a virtual memorial to honor what would have been Taylor's 27th birthday; the memorial included ten action items that attendees could take to honor Taylor, including flooding social media with Taylor's story and sending a birthday card to her family. Taylor began to be memorialized in offline spaces as well: People attended protests, held vigils, and painted murals.
The preservation and curation of Breonna Taylor's memory on the internet in the past year is part of a much larger tradition of Black communities using social media to preserve the legacies of Black people who were killed or abused by the state, even as the mainstream media and the general population refused or neglected to pay attention. Movements like Black Lives Matter, Say Her Name, and Me Too, all started by Black women, began as social-media campaigns that kept a record of the abuse or murder of Black people in the United States, with full knowledge that at the time, nobody else was keeping score.
But one thing stands out about Breonna Taylor's internet legacy: the outpouring of memes. Throughout much of the summer and fall, memes put Taylor's name into cutesy catchphrases — one user tweeted, "My Name is Junie B Jones And The B Stands For Breonna Taylor Killers Need To Be Locked The Fuck Up" — or placed the struggle for her justice in random, inappropriate places, including, in one image, on the ass of a scantily clad Rihanna. Some used a "bait and switch" meme format by putting Breonna Taylor's name into unrelated images or well-known phrases, like this viral tweet, "Spaghetti Carbonara is the easiest pasta dish you will ever make with just 4 ingredients in 15 min!!! INGREDIENTS: * Arrest * The Cops * Who Killed * Breonna Taylor."
Over the last year, the phrase "Don't Forget About Breonna Taylor" has been thrown around liberally both in online spaces and in mainstream news: Last June, the New York Times ran an article titled, "Why Aren't We All Talking About Breonna Taylor?," and the same mantra lights up Twitter every few months. The phrase is both critical and empty: Of course we should not forget Breonna Taylor, but it is not a coincidence that the people we are expected to forget — Breonna Taylor, Oluwatoyin Saalu, Tony McDade — are not straight, cisgender men.
In September, Breonna Taylor was on the cover of Oprah Magazine, the first time in 20 years that Oprah herself did not star on the cover. In the same month, Vanity Fair published an in-depth interview with Breonna's mother, Tamika Palmer, that filled in much of the nuance of Breonna's personhood that the internet had missed. "I think about how I had to tell Breonna how to make chili a hundred times, and she would still call me when she would go to the store," Palmer said. "I would say, 'Breonna, can you write this down, because I don't understand why I got to tell you this all the time.' And she would say, 'I don't need to write it down, I can just call my mama.'" In the same month, thousands took to the streets in Louisville to protest the grand jury's decision to not charge most of the officers involved in Breonna's death. The phrase "Justice for Breonna Taylor" moved from Twitter to picket signs, and was screamed in the faces of lawmakers and police officers.
A year after her death, we are stuck with a question: What would justice for Breonna Taylor actually look like? In June, Breonna's Law was passed by the Louisville Metro Council, banning the use of no-knock warrants by LMPD, and in January, the LMPD announced that two officers involved would be fired from the force. While some activists see this as a start toward keeping Black people safer from police, many are dissatisfied with this measure, and see Breonna's Law as a symbolic change, rather than an actual commitment to the protection of Black folks in Louisville. How many people — including Eric Garner — have died at the hands of police even after choke holds or no-knock warrants were technically banned? Real justice, for Breonna Taylor, and for Black people across America and the globe, is bigger than one law, one firing, or any measure that our current justice system is capable of delivering.
When we say "Don't Forget Breonna Taylor," what we are really saying is: Let's build a world where Black people are not memories, where Black lives are valued, where Black folks feel safe. Making a semi-political meme, or other lukewarm online participation, does not honor or respect Breonna Taylor's legacy. The fight to remember and honor Breonna Taylor requires fighting for things that have to happen offline, like stripping police departments of money and redistributing those resources to the community. It means not only firing the police officers who shot her, but radically restructuring the systems of public safety in this country so that all Black people can feel safe walking down the street, going to school, or, like Breonna Taylor, sleeping in their own homes.