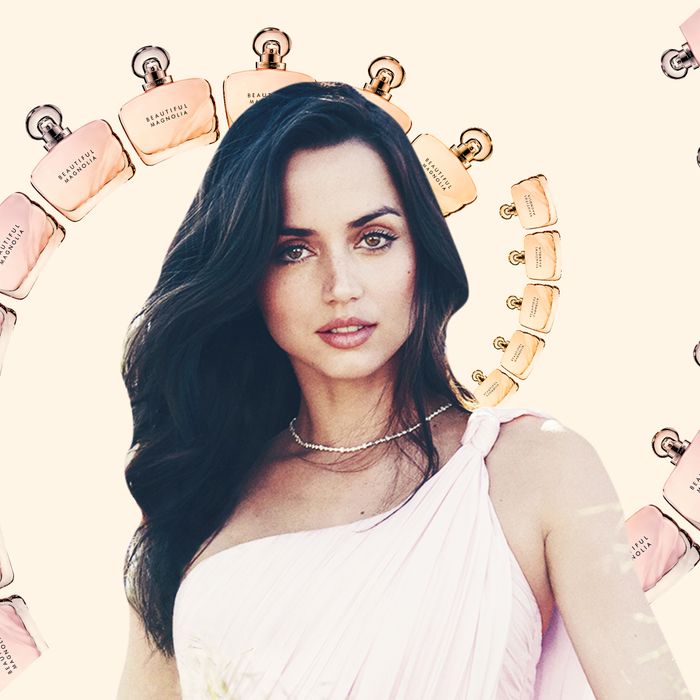 Photo-Illustration: by The Cut; Photos: Courtesy of Estée Lauder
Scientific studies confirm that, of all the senses, smell offers the best recall. In "Scent Memories," the Cut asks people about the scents they associate with different times in their lives.
Next up is Golden Globe–nominated actress Ana de Armas, known for her roles in Blade Runner 2049 and Knives Out. De Armas stars in the upcoming James Bond film No Time to Die and is the latest global ambassador for Estée Lauder. Her first duty is representing the brand's newest fragrance, Beautiful Magnolia Eau de Parfum, a green floral with print and online ads out now. The Cut talked to de Armas about the smell of sweet coffee, growing up in a beach town, and motorcycle scents.
My first scent memory: My mom's scent. Maybe everyone says this, but I remember it. She wasn't one to use too much perfume. She smells like … it's hard to describe. Maybe coffee and milk in the morning? Something sweet.
Happiness smells like: The ocean. That's my happy place. I like nature in general, but going to the beach or sitting in front of the ocean brings me a lot of joy. I grew up in a little beach town in Cuba that was a block away from the ocean and would spend a lot of time there. Maybe it was because it was an island, and because of the wind and humidity, but you could feel and taste salt. It's a very intense smell. My Cuban ocean.
Love smells like: Roses. Maybe that's too obvious, but I like flowers and I think they are a beautiful gesture, especially when someone you love gives you flowers. Roses are one of my favorite flowers, as well as sunflowers, although they don't have a smell.
Friendship smells like: A movie theater and popcorn. It's one of my other happy places. I usually go with friends, and we get our popcorn, sit through the movie, and then talk about it. I like to do the same thing at home when watching a movie.
Success smells like: Clean sheets — that fresh, pulled-onto-the-bed clean-sheets smell. I associate it with feeling like I finally go to bed at the end of the day. It's like, Success! I made it. I did what I had to do.
My home smells like: Probably flowers. I always do have flowers and different kinds of candles. I love wood, leathery smells, and also jasmine and rose candles. I also like sweet smells and sweet drinks. I make my coffee with condensed milk.
The first thing I smell in the morning: My dogs. They sleep with me in bed and wake me up. They come very close, almost on my pillow. They probably smell like dog shampoo, maybe some grass, or food — they kiss me with their breath. It's all good smells, because they're the most loving beings in the world.
The last thing I smell before I go to bed: I love lavender in my bathroom. I use it in my shower, soap, and even some lotions. I also have this Sleepytime tea that's lavender and chamomile.
The worst smell is: I hate when I come back from a place where someone is smoking and I feel the smell in my hair. That's a bad smell. I love the smell of Cuban cigars, I think it's incredible. But not in my hair or clothes.
Regret smells like: Anise. I don't like regret, so I'm going to with anise because it's gross.
A scent or smell that I love that others usually don't: Gasoline. My dad used to have a motorcycle when I was growing up. To fill it up, you have to open the whole tank. I would go over and be like [sniff]. He would say, "Don't do that!" But I loved it.
Every product is independently selected by our editors. Things you buy through our links may earn us a commission.