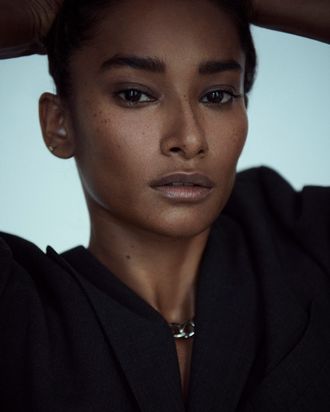 Photo: Courtesy of Nidhi Sunil
A few weeks ago, New York–based model and former environmental lawyer Nidhi Sunil made history as the first Indian to be named a global ambassador for L'Oréal Paris. She joins an esteemed group that includes Jane Fonda, Celine Dion, Viola Davis, Gemma Chan and Indian actress Aishwarya Rai.
Sunil has long been an outspoken advocate for diversity and has criticized the colorism that pervades the beauty industry in her home country. She talks to the Cut about how she carved out a space for herself at a time when the entertainment world wanted only tall, pale-skinned girls, her activism against female infanticide, and what they discussed during those L'Oréal interviews.
Did you want to be a model growing up? 
I was born in Cochin, India, and grew up in Bangalore. In a middle-class South Indian family, it wasn't normal to think about modeling, show business, or even art as a possible career option. We were a service-oriented family; my parents were doctors. I was conditioned to think about having a vocational degree, so I went to law school; it felt like a good degree to have. But if I'd had a family that was encouraging of me [being] in the arts, I would have done a fine arts degree. I've always painted, I still do. But it was not at all an option and was shot down as soon as I brought it up.
Modeling happened when I spent a few days helping [producers of a model hunt] find scouting locations in Bangalore after my third year of law school. I ended up participating in the competition, which was a monthlong process mostly consisting of photo shoots. The feedback from the judges was that I was camera-aware without being camera-aware, basically meaning that I had screen presence without being self-conscious of the camera. Until that point, I didn't even know that was a thing; it was my first time experiencing set life. I won the competition and signed with Elite Model Management.
I didn't move to Bombay (or Mumbai, one of India's fashion hubs) to pursue modeling at the time, since I had two more years of law school. I made a deal with my parents that I'd finish my education and take a year off to do whatever I wanted. I moved to Bombay after I graduated in 2010.
Why did you decide this was the career for you when the models that were popular then looked nothing like you? 
First of all, I had an opportunity with Elite and it was exciting — something I never thought would come my way. When I entered the industry, I was told I couldn't be a "money" girl because I was too dark to be able to book mainstream commercial campaigns. And I was too petite to do runway [Editor's note: Sunil is five-foot-six]. So there was this weird space that I existed in that was very editorial and creative, which was nice for my soul but difficult for my bank account.
Taking the year off after university to explore what the industry was like took the pressure off a bit. I didn't have an exact strategy in mind. I was expressing myself by exploring my creative avenues and seeing what I could do in a nonconventional profession. I reached out to photographers to put together test shoots for myself and did my own makeup and styling. It was fun and I wanted to see who I was creatively. I didn't take rejection and a lot of the things I confronted personally. It wasn't just hard for me, it was hard for any dark-skinned girl, and I realized it wasn't a rejection of me as a person. So, I could confront the social and cultural ramifications of that kind of dialogue. I was told that since I was petite, with freckles and dark skin, commercial clients wouldn't like my look, as it's not aspirational for their demographic. It was a narrative of marketing around that time and I realized it needed to change.
I could confront it because I didn't have everyone outright rejecting me. I had some encouragement, mainly from photographers who loved my work. My whole career has been because of the photographers I've worked with. They saw me as more of a muse and collaborator instead of a face they hired to get the job done. I'd really jump in and participate by asking questions about the brief, getting involved with styling, or suggesting locations if the team was scouting — essentially being proactive.
At that time in Bombay, a few modeling agencies [had] girls from outside India: There were Brazilians, South Africans, and girls from all over Europe. I always say that the strangest part of my professional life in Bombay was that the last market I cracked was the sari catalogue market, even though I was Indian. They preferred girls that weren't Indian, even though they had no idea how to wear the traditional garment. It was more aspirational to have fair girls with colored eyes than it was to have Indian or brown girls.
But I cracked it. I had worked with a photographer, Arjun Mark, multiple times for editorials, and he was contacted by the sari client to do their catalogues. He insisted he'd work with dark-skinned girls, and that was the first time I ever did a sari campaign. The clients were very happy with [the] results, but it took a photographer pushing them to say yes. A lot of sari campaigns opened up for me after that.
[The photographers were my] cheerleaders, who told me I was creative in front of the camera and to create a place for myself. I don't want to claim this, but before me, there was no one like me on the rosters of Indian agencies, and now there's a whole bunch of petite dark-skinned girls working in the market, and I love that. It's great!
What did your parents think?
Essentially, they cut me off financially. Which was fair enough — they'd made me independent and given me an education. I graduated third in my class and they thought I had a perfect chance of making a career out of law. When I wanted to try out modeling, as a middle-class family, they didn't have the money to support me. They told me they wished they could help but I'd have to figure it out myself. I'm not going to lie, it was terrifying and I didn't have much to go on.
I had a few friends [in Mumbai] who let me couch surf. When you start, you're confronted with new challenges daily, especially when you're broke and trying to get around in an industry where you have no network. My motto my whole life has always been to take it one day at a time. That's stood me in good stead and helps me enjoy the journey along the way. Otherwise it would be too overwhelming, considering how crazy and hard things were. Even moving countries, all the paperwork, and finding places to live.
Why did you move to the U.S. to model?
The conversation on casting diversity was opening up and in 2015 I got an opportunity to sign with Wilhelmina Models in New York. I asked my Indian agent, "Are you sure they know I'm not 16 or 5'11""? And she said they don't care, they love your pictures. At the time I was pretty successful in India and happy about where things were going. I had to make a decision [between] moving to New York, starting from scratch all over again and going through the immigration process, or choosing to stay comfortable where I was. I always choose change, that's just who I am.
When I got here, even though casting was opening up, it was still challenging. The person who scouted me had foreseen how the market was going to change but casting was still very much androgynous, white teenage models. There was a lot of tokenism and lip service. I was the one Indian model on the board at Wilhelmina. The bookers didn't know what to do with me. They had been pushed to have this group of girls who were diverse, but they had no idea how to develop me. For a girl from Eastern Europe, they knew exactly which casting director would like her look and who'd pick her up. There was a lot of trying to figure out where they could put me and where I could take up space in the industry. There were a lot of preexisting stereotypes.
What were the wins along the way?
A win was being on the cover of Elle India, ten months after moving into the Bombay fashion world. And I actually started booking work — I moved to California; the market out there was more beauty- and commercial work-[focused]. Strangely enough, I was more a commercial girl in America than I was in India. So being able to economically support myself was a win. It makes a huge difference to have stability of income, because you can get creative after that. Right now, I'm just celebrating the fact that I'm on Jane Fonda's Instagram grid.
What's the Invisible Girl Project and how are you involved?
I've been working with Invisible Girl since 2017, and I'm on their board. This organization is very personal to me. It's based in South India and we're dealing with [stopping] female infanticide. [Editor's note: Female infanticide, also known as gendercide, is the selective killing of female babies in cultures where there's a preference for male children, as girls are considered a financial and social burden.] We partner with existing shelters and get involved with how they're run.
We also place the girls in schools and pay for all of it. We have about 425 girls of all different ages going to school, and a couple of girls going to college who want to become accountants and lawyers. Women are such a wasted resource. When I got to a place where I had the capacity, energy, and resources to work with an organization like this, it was a no-brainer for me. We were panelists this year at the annual session of the United Nations Commission for Status of Women. I produced a film which we aired there.
How did you get selected as one of L'Oréal's global spokeswomen?
The industry is a smallish place and everybody knows what's being casted. L'Oréal was looking for a spokesperson — maybe not necessarily Indian, I'm not sure about the specifics — but somebody who was essentially articulate, involved in activism, and was able to represent them as a global spokesperson. The conversation started between them and my agency, One Management, in late 2019, and it went back and forth for months.
I flew to Paris and met their team. It wasn't a casting; this was a much more involved process where they specifically wanted to have conversations with me about who I was, what I stood for, why I was working with Invisible Girl, and my advocacy about colorism. There was a lot of digging into my personality, who I was and what I represented, before the brand decided they would go ahead with me. It was really refreshing to me, because it felt like they were listening to the dialogue that's going on and it was important to them. They were very specific about hiring me as a spokesperson, and not just a face. We finally signed just before COVID hit.
How will your new position help you be a driver of positive change?
It's nice to have a global platform at an age when I'm not a child. I know what I stand for as a human being, and I'm somewhat well-rounded. It's great to have this opportunity that essentially amplifies the work I'm already involved in. My goal is to continue being who I am and do what I'm doing, which is essentially [working for] the empowerment for women. I've always wanted that, in the sense of having real opportunities. For me, that's empowerment — having opportunities where none existed before.
How do you reconcile being a L'Oréal spokesperson with their history of selling whitening products in Asia and other parts of the world?
That, too, came up in conversation with the L'Oréal team before we signed. Obviously, one considers as a huge company that's been in existence for decades, that the teams that are working within the company change with the times. The team that's working behind the scenes right now to make the brand what it is, is very in tune with the narrative that's going on. The fact that they wanted to bring me, or someone like me from the South Asian subcontinent, on board, [considering] my skin color and what I stood for — they were obviously very aware about my advocacy on colorism — is for me indicative that they're listening to the conversation that representation is extremely important.
They have committed to removing all labeling regarding whitening or fairness by the end of this year. I know that it's not everything. The narrative has to constantly be pushed to change, so that people don't want this anymore. Where there's demand there's supply; when people don't want it, you can't justify manufacturing it. Even though removing all branding with regards to fairness and whitening may seem like it's not enough, it's a step in the right direction.
What's your beauty routine like?
I've mostly done DIY skin care before I found active ingredients, and I still find DIY pretty fantastic, results-wise. I use unrefined coconut oil on my body and overnight in my hair. I mix coconut oil, sugar, and lavender oil as a scrub for my elbows and knees. For toner, I spray chilled rose water on my face and carry a spritzer around with me. I also put my skin rollers and masks in the fridge.
L'Oréal sent me all of their products and I've been using a lot of their stuff. I never used hyaluronic acid until now, when they sent me their Revitalift series. I also use their glycolic acid and retinol. In your 30s, I feel retinol is great and made a huge difference to my skin. I've been using the Lash Paradise mascara which has an hourglass-shaped brush, and the Rouge Signature Matte Lip Stains are great, and there are like, 60 colors. I didn't realize how much research goes into this consumer brand that you buy at your pharmacy. In the past, I've been a skin-care snob and used smaller and more boutique brands. But it's nice to realize they have all this research going into skin care.
Every product is independently selected by our editors. Things you buy through our links may earn us a commission.