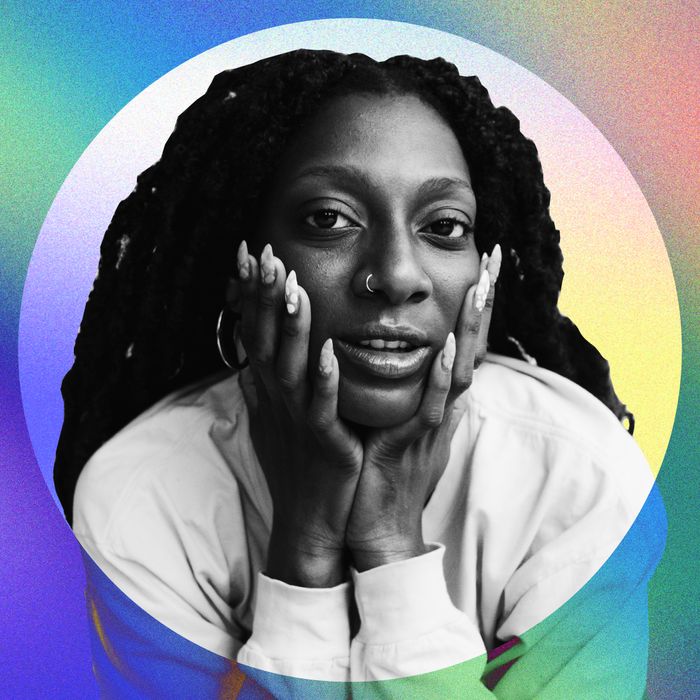 Photo: Courtesy of Hanahana Beauty
Abena Boamah-Acheampong was an algebra teacher on trip to Ghana when she had a life-changing epiphany. After visiting a shea-butter cooperative called Katariga, she wondered if it would be possible to create a socially responsible, sustainable, transparent company that could support the community. And so Hanahana beauty was born. A brand dedicated to supporting and uplifting people of color, her company sources its shea butter directly from Katariga, ensuring the cooperative has access to health care and sustainable resources through what it calls a "circle of care."
Over the years, its Body Butter has become a beauty favorite (especially among those with eczema or psoriasis). Last year, it even got a shout-out from Beyoncé. Today, the brand is celebrating its fourth anniversary with the launch of its "4ever not ashy" collection, merch, and a new, limited-edition body butter scent called Bamboo Coconut.
Below, the Cut talks to Boamah-Acheampong about the power of genuine relationships, leveling up on honey, and putting true care into your business.
I've read that one of your social-impact commitments is that you pay twice the fair-value price of shea butter from your cooperative.
We first started buying it at twice the fair-trade price. But they can have difficulties with not being able to buy seedlings at the time of harvest, so now we do twice the asking price.
We started doing that because when I first got introduced to the cooperative, I went to try and learn and buy shea. Being Ghanaian, I knew it was inexpensive. I thought, If I'm buying such a large amount, it should cost me a little more. At the time, I was able to buy a kilo for around 39 cents. It didn't make sense to me to pay that low.
So now we have built this genuine relationship with the cooperative, going on for three years. We are a growing company. We are keeping the commitment. If they have issues, we try to come up with access to different solutions, such as health care. I come from an education and therapy background, so a focus on that was especially important. These people are giving us their raw materials, so they should have health care, if we can offer it, because we are benefiting from their work.
How were you first introduced to the cooperative?
I met the cooperative when I went on my first trip back to Ghana as an adult. In the last week of my trip, I told my family that I'd like to go to Tamale and find shea. It's in the north. My family doesn't live there. It's a different language and dialect. I told my mom I wanted to go and she was like, Don't go. You can just have someone bring down the shea. And I said, "No, I want to see how they make it."
My aunt knew of a driver named Paa who "knows everyone." Paa picked me up and I looked like a crazy person — out of place with a nose ring and big hair. I told Paa that I was interested in the storytelling about the women making it. He brought me to the cooperative and showed me everything. There's still an old dinky video on our website of Paa showing me the process. Ever since that day, we'd been buying shea from the women. We buy black soap from another cooperative. One time in Ghana, I got lost and found that one.
But Paa was not just our transporter, he was also a connector, because he spoke English and Dagbani, the language of Tamale. I would send any articles I did back to the women, and once we did a whole exhibition and sent them the photos. Paa unfortunately passed away in a car crash, but his son is now our head of health care. It's genuine, when we talk about sustainability, because we connect it to the people. These women love what they're doing. They just want the opportunity to do more.
How has Black Lives Matter impacted your business?
In a lot in different ways. In general, our business spiked because of the "lipstick effect," and since we are a small, sustainable, ethical business. With Black death literally inspiring people to use their money more intentionally, we received a lot of coverage. I made sure to take advantage of different opportunities and different grants. We received a lot of opportunities with not just access to capital, but mentorship and connections, from Glossier to Tower 28.
This time last year, I was doing this all by myself and had two interns in a small three-bedroom apartment. Now I have a loft space, a full fulfillment team, and we do everything in-house. Our business has been affected in a positive way. At the same time, this business is run by Black women. We have had to endure a lot and grow up in a whole different way outside of what is happening. There's multiple pandemics we are fighting. It's been interesting.
I am very intentional about what we accept and what we take advantage of. People are realizing that they need to create access for Black brands and create spaces on shelves. We do not take every single one, because, again, we want to make sure it's intentional and makes sense for us to grow.
What opportunities don't feel right for you? 
Not everything is meant for us. Every offer we take is something to enhance our agenda of how we want to grow or something we wanted to do anyway. For example, we have a full, in-house operations team. Sometimes, these offers for retail space are in places that don't make sense for right now — we are keeping those conversations open.
There was this huge uptick in bloggers and influencers reaching out. We are a brand — a way you can support us is by actually purchasing the product. We get a lot of messages and DMs from people who say they love the brand but don't even follow it. How much do you care, if you don't even follow it? It's rejecting things that didn't seem intentional or fully thought out. We as a brand have done a great job in telling our story online. At the very least, I do expect when people reach out to have some knowledge of background from our website. Or else it feels like an email received on a chain of other Black-owned brands.
Has the way you think about beauty changed with the pandemic? How?
Growing in this space during the pandemic and even fundraising, my mind-set is the business and how it can or cannot be sustainable. I also look at beauty through our customers or community, with an interest in what we can really scale. My change in scope for beauty has really been, Does it make sense for the brand?
Do you think beauty is tied to self-care?
Beauty should be connected to self-love — showing yourself love should be taking care of yourself. Finding yourself attractive is the most loving thing. We had our anniversary shoot, and I was watching my friend watch herself like, I am so beautiful. And I was like, Yes! We laugh and giggle but that is what beauty should do. You should literally look at yourself and feel love for your true beauty in all types of ways. That is the basis.
How would you like to see the beauty industry change from here?
I hope that a brand like mine, with stories about our mission or how we pay our cooperative, is normalized. I hope that there is a standard of understanding a sustainable supply chain. That is something outside of diversification and opportunity. Founders and brands should know where their ingredients are coming from, and not just rely on the vendor. I would like to see the transparency of the beauty industry increase. We put things on our body every day and don't question it. We should start to change that.
How can businesses be more intentional when it comes to sourcing shea?
Vendors usually get their shea from a cooperative somewhere, like Ghana, Nigeria, Ivory Coast. Right now, there is machinery which can make it too. Your shea butter, regards of the strain, is coming from the continent at most times.
You can do it at different levels. But look to see if your vendors are paying them at sustainable wages. Look at the access of raw ingredients and how the people creating them are being sustained. We know these markets. We know how much shea butter is being made, and how much it costs. Are the rates sustainable? Are they wages that they can live off of sustainably off? If you can do that, think of how you can continue to sustain these communities that we are benefiting from. Companies are making billions of dollars off of these raw ingredients and can continue to scale.
What do you wish people understood about what you do?
We are literally trying to create things. We are trying to curate learning experiences through what you put on your body, how you take in information, and how you see visuals. That is really genuine. It's a lot of work. I never realized being an entrepreneur was this much work and if I did, I don't know if I would have done it. All the people at this company are sacrificing their time because they really believe in it. And I really believe we can build a sustainable brand that makes the people who are part of it feel good with how they live.
Last question, unfortunately, ______ is worth it. 
Manuka honey is worth it. It's $38 but it's worth it. I use it to cleanse, for masking, or spot treatments. I did a podcast with Brooke from Naked Beauty, and we were talking about levels of honey. Manuka is the best one. I don't know the whole background, but I know it involves tree tapping and that it is healing. It balances out my skin. I use three cleansers. I'll do manuka honey twice a week, our cleanser, or Klur, and alternate through those. It's even gentle enough to use as an exfoliator. Sometimes, I'll make myself a manuka honey mask, mixing a little rosewater and maybe some oil. I love it.
Every product is independently selected by our editors. Things you buy through our links may earn us a commission.