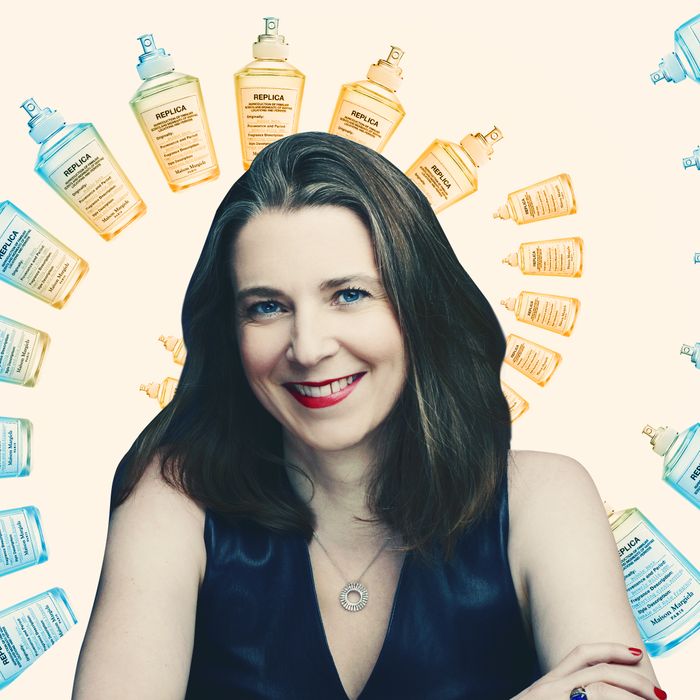 Scientific studies confirm that, of all the senses, smell offers the best recall. In "Scent Memories," the Cut asks people about the scents they associate with different times in their lives.
Next up is French perfumer Violaine Collas. Collas has created scents for brands such as Dolce & Gabbana and Lalique. Her newest creation is Replica Maison Margiela's new perfume, Bubble Bath. The concept for the fragrance comes from the iconic Julia Roberts bubble bath moment in Pretty Woman. The idea for the fragrance came to Collas while she was taking a coconut-scented bubble bath, a feeling she likened to being in a "cocoon." It's a white musky, soapy, and floral (rose, jasmine, lavender) perfume with a hint of coconut. The Cut caught up with Collas to talk about the smell of security blankets, luxury leather, and cat purrs.
My first scent memory is: My doudou. It's what we call a security or baby blanket in French. For some, it's a teddy bear; for me, it was my actual blanket. I still have it. It was a white square with a pink rabbit on it. It smells like my own smell, which is hard to describe.
Happiness smells like: The smell of my kids. They smell like a mix of all of the cooking we do together and their own scent. We have made lemon pie, carrot cake, and raspberry cookies. It's that combined with something very milky, almost sandalwood-like.
Love smells like: It smells like my husband. He wears Maison Margiela Replica Under the Lemon Trees. It's a perfume that I made, but it's his scent. I was working on creating it, and he said, "I love it, I want to try it," and then he kept it.
Heartbreak or loss smells like: Decay or something very cold and rotten. Something really tough.
Friendship smells like: Like red wine, cocktails. Right now, because of COVID-19, I really like to escape with some rum with passion fruit. It makes life a little easier.
Success smells like: For me, like a Jitrois piece. It's a typical Parisian brand that does luxury leather. Every time I win a big project, I go there to buy myself an item. It's my ritual. I started doing it when I was young. It was a dream for me to buy a single piece. The first one I bought was maybe when I was 27, and I've been doing it since then. It's not great for my money, but I love leather, and I love to wear it. For me, leather is very sexy but very soft and something like a second skin. It's a way for me to work with leather that doesn't smell too much, and it's very easy, comfortable, and elegant.
Regret smells like: Bitter aftertaste, or acrid notes.
The worst smell is: Durian, or something like that. I don't personally like it.
My ideal vacation smells like: Frangipani. It reminds me of beautiful islands, like Zanzibar and Indonesia, where there are many different types of frangipani.
The first thing I smell in the morning: My cat, purring — sort of musky and animalistic. As soon as the alarm rings, the cat steps on me and says, "You have to wake up now." The cat smells like something very soft and musky and animalistic in a good way.
The last thing I smell before I go to bed: Minty-fresh toothpaste.
My home smells like: All the samples of the fragrances I work on. I spend a lot of time working from home. It's great for me. I can spread my samples everywhere and follow them during the day. It's a nightmare for my kids because the smell is everywhere in the house. My little daughter can't stand it. She won't become a perfumer because she thinks the smells are too strong everywhere. My son likes to smell things.
Every product is independently selected by our editors. Things you buy through our links may earn us a commission.