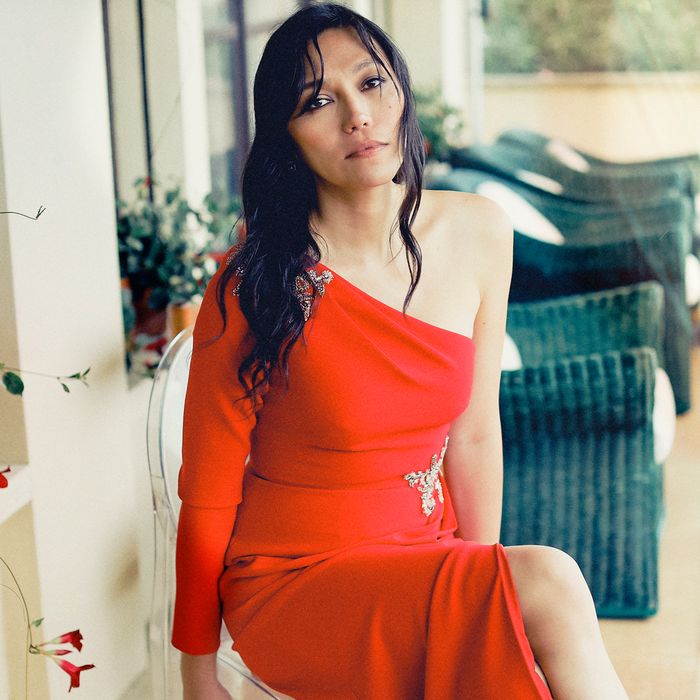 Isabel Sandoval.
Photo: Gamma-Rapho via Getty Images
Halfway through writing Lingua Franca, Isabel Sandoval's third feature film, Donald Trump was elected. This led to a shift in her approach to the film, a story about a protagonist compounded by the intersections of transness and undocumented status. The film centers on the life of Olivia, a transgender Filipina woman in Brooklyn's Brighton Beach neighborhood.
"I felt like I was in somewhat of a daze. It was a very peculiar atmosphere that was a mixture of anxiety and vulnerability and tension about what was going to happen," Sandoval said. "I decided to make Lingua Franca with its final premise because it allows me to work with a template of a social-issue drama. When you read the premise of Lingua Franca, touching on immigration issues and transgender identity, the audience creates certain expectations. I wanted to subvert that."
Written, directed, and starring Sandoval, Lingua Franca follows Olivia, a woman seeking U.S. citizenship while working as the caregiver to Olga, an aging Russian-Jewish woman played by the late Lynn Cohen. During this time, Olivia and Olga's grandson, Alex (Eamon Farren), gradually fall in love. Though she discloses her efforts pursuing citizenship, Alex does not become privy to her transness until later on.
Born and raised in Cebu, the second-largest city in the Philippines, Sandoval grew up going to movie palaces with her mother that led to her passion for cinema. While she has no formal traditional training in filmmaking, her first film, Señorita, served as her "crash course" in the craft. A decade ago, Señorita premiered at the Locarno Film Festival, where she began to make her mark as the "Queen of Sensual Cinema" for her intimate portraits of transfeminine pleasure. Following up on that feat, Sandoval made history in 2019 with Lingua Franca. For the first time, a film starring and directed by an openly trans woman screened at the competition. More recently, Sandoval collaborated with Miu Miu to produce Shangri-La for their ongoing "Women's Tales" series.
"Artists like ourselves, who are coming from a minority community, in the bigger ecosystem of Hollywood, we don't really get that many opportunities to tell stories," she says to me over Zoom. "Not just to tell stories, but to tell stories of our own choosing in the way that we want to." The Cut spoke with Sandoval about trans representation, sensuality onscreen, and the power of reclaiming one's narrative.
In Lingua Franca, you showcase the intersections of being trans, being an immigrant, and also just trying to make it in the world. What drove you to tell that story?
In my previous films, even though they're very personal, they're not autobiographical. That's still true with Lingua Franca. It's the first film where I have more similarities with the main protagonist. We're both Filipina trans women, immigrants, and living in New York City. The rest is fictional. When I started writing Lingua Franca, I was undergoing my gender transition and observing the changes that I was experiencing not just physically but emotionally and psychologically. I also observed the changes in my interactions with people including how cisgender men saw me as a woman.
I wanted to subvert the template of a romantic drama and make a film that was neither didactic nor preachy but lyrical, delicate, and poetic. This way, I'm able to convey the experience of someone from my communities while stamping it with my unique signature.
What continues to push you to create?
I have a hunger and an appetite to take artistic risks and invent my own cinematic language and sensibility. I hope it will be really unique from other filmmakers, auteurs, and cinematic masters that have influenced me before and even my contemporaries. I want to be known as an individual.
You've also been called the "Queen of Sensual Cinema."
I came up with that moniker on Twitter because there's not a lot of sensuality and sensuousness in contemporary American cinema. That's different from depictions of sex or raunchiness. As I've evolved in my filmmaking, I've come to really embrace the innate seductiveness of cinema. In Lingua Franca, there are a few scenes where I view sensuality and sexuality from a specifically trans-female gaze that doesn't feel exploitative. It's showing a trans woman character allowing herself to experience pleasure without shame or guilt.
While watching the film, there were several moments I expected the protagonist to experience violence at the hands of cis men. My preconceptions were always proved wrong.
I wrote it that way because I have been involved with men that weren't initially aware that I was transgender, and their reaction when they found out that I was trans was not to beat me up. People go through a process where they're thinking about the implications of dating someone who might be trans. I wanted to depict that psychological complexity. I expressly did not want to make a film that felt like Transgender for Dummies. A lot of films featuring trans characters almost always fixate on the transition process because it's the most sensational.
When the film begins, Olivia is just going through her daily rituals of looking after this elderly woman. Her transition is well behind her. We're not hearing about her being trans every five minutes into the movie. I included that dilation scene early in the film without needing to explain or justify anything. If cisgender audiences think she's masturbating — which has happened before — I was like, "Okay, then that's what you think!" My goal with this film was to make a work of art that satisfied and fulfilled my own expectations as a viewer and as a Filipino trans woman immigrant.
The friendship between Olivia and Trixie is so sweet. A friendship between trans characters is seldom shown onscreen. Usually, it's these characters just going through life alone. What inspired Trixie's character?
I thought it was radical to depict that friendship between two Filipino trans women in opposition to how trans characters are depicted in Filipino media and in cinema. It almost always makes trans characters the butt of jokes or comic caricatures, but these are three-dimensional, fleshed-out women bonding and sharing a light moment as friends also, in particular, in a church setting. This is particularly Filipino because the Philippines is quite religious. We're about 95 percent Roman Catholic — sometimes neurotically so — but it's part of Filipino culture. I wanted to portray that in the film.
What made you decide to put yourself in front of the camera?
For me, being an auteur means taking on key creative roles in the film ensuring that I'm able to translate my vision from the page to the screen without compromise. That includes writing, directing, editing, and also playing the main protagonist. Being an auteur is not just artistic or aesthetic; it's political. It's about gaining that ownership and control over our own stories and how they are told.
Why did you name the film Lingua Franca? 
The dictionary definition of lingua franca is "bridge language." In the film, what is actually most essential between Alex and Olivia is what remains unsaid and unarticulated. I'm more of a purely visual storyteller. Focus is turned toward the audience to pay attention to not just what's being said by the characters but also the gaps, the pauses, and the silences between them.
Olivia is a very introverted character. A lot of audiences were puzzled why someone like Olivia would refuse a marriage proposal from Alex. But that's also the moment where I'm inviting the audience to put themselves in Olivia's shoes. Of course, she could marry Alex and get the green card that she's always wanted. If I were Olivia, would I really want to marry someone who exploited my deepest fears and anxieties? At that moment, Olivia becomes more than a trans woman looking for love or an undocumented immigrant looking for papers. The film ceases to become just a romantic drama. It's Olivia's journey toward agency and dignity and the ability to determine the course of her own life.
The ending shocked me at first, but after some reflection, I realized the power behind Olivia's choice. She's very strong-willed. What inspired that final scene?
I didn't want to have a conflict and just resolve it at the end of the movie so that after 90 minutes, the audience can just go back to their lives. I want the film to haunt and linger. Even though the film concludes, immigration and trans issues continue to be unresolved. It's a systemic issue where the solution starts with an internal change of heart. Making films is an act of empathetic imagination. We want people to empathize with someone like Olivia and not just pity her.
What can audiences expect next?
I'm currently working on the script for my next feature, Tropical Gothic. It is set in the 16th century in the Philippines, very early on in the Spanish Colonial Regime. The Philippines used to be a colony of Spain for over 300 years. Tropical Gothic is an allegory on colonialism and imperialism. It's also my own riff on the classic film Vertigo.