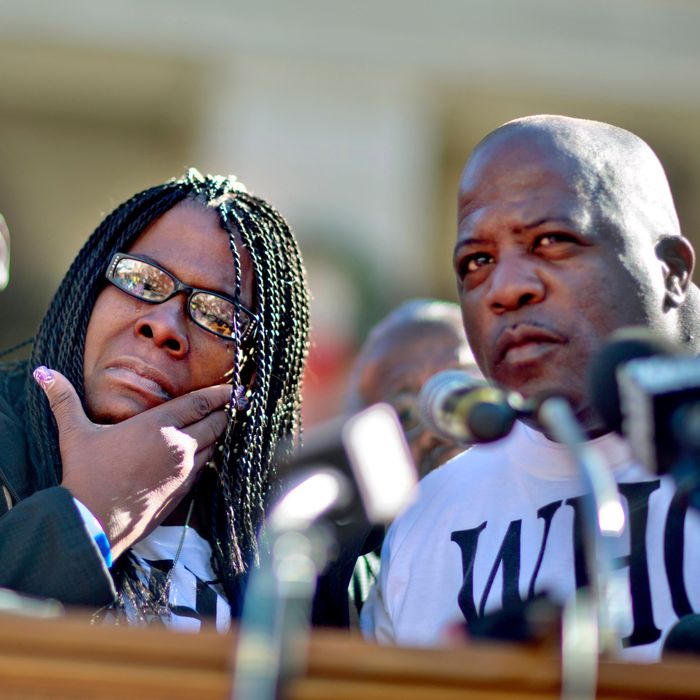 Jacquelyn and Kenneth Johnson, parents of Kendrick Johnson, who was found dead in a rolled-up gym mat in 2013.
Photo: David Goldman/AP/Shutterstock
Eight years after a Black teenager was found dead in a rolled-up gym mat in his Georgia high school, the case remains shrouded in mystery. At the time, local investigators concluded that the teenager, Kendrick Johnson, then 17, had died in a freak accident. But that narrative hasn't been accepted by many — including Johnson's parents, who believe their son was murdered.
Now, nearly a decade after Johnson's suspicious death, the case has been reopened, the Atlanta Journal-Constitution reports. On Tuesday, Lowndes County sheriff Ashley Paulk announced that he will lead a new investigation into Johnson's death — a decision applauded by Johnson's parents.
"We ain't cheering, but we know this is the only path that we can get for justice for Kendrick Johnson," the family's spokesman said. In an interview with CNN, Johnson's mother, Jacquelyn, said she's "feeling hopeful."
Following Kendrick's death, an autopsy conducted by the Georgia Bureau of Investigation showed the teenager had died from accidental positional asphyxia, leading investigators to conclude that he had gotten stuck in the mat after tripping while reaching for a shoe. But an autopsy conducted by a pathologist whom Johnson's family hired determined that Kendrick had died from "unexplained apparent non-accidental blunt-force trauma" to the neck. The case sparked a federal probe, though it was dropped in 2016 after investigators concluded there was "insufficient evidence to prove beyond a reasonable doubt that someone or some group of people willfully violated Kendrick Johnson's civil rights or committed any other prosecutable federal crime."
As part of the new investigation, Paulk will use the evidence collected by the U.S. Justice Department, which turned over 17 boxes upon his request. "My plan is to see if there are any discrepancies between the reports," he told CNN, noting that he expects the investigation to take up to six months.
"If there's questions — and they're legitimate — I need to know the answers myself," Paulk told CNN. "The only way I'm going to know is to look at the evidence myself." At the moment, there are no suspects "because we haven't made a determination as to whether or not this was murder," Paulk told the Journal-Constitution. (In 2015, the Johnsons filed a wrongful-death lawsuit against Brian and Branden Bell, sons of a former FBI agent, plus one of their friends, accusing them of killing Kendrick. The suit was ultimately dismissed.)
As Kendrick's father, Kenneth, told CNN, the family isn't "asking for any favors." He continued, "We're not asking for anybody to lie for us. We just want the truth to come out."