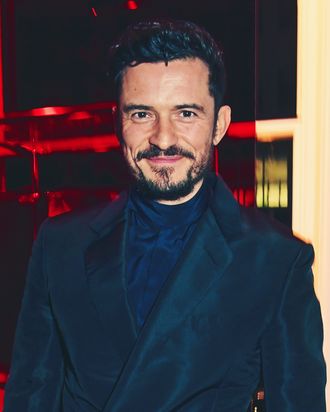 Orlando Bloom.
Photo: David M. Benett/Getty Images
Orlando Bloom has given a new interview, and it's just remarkable — among the most bountiful a celebrity has ever given. Ostensibly, it's about his daily routine — though the full text is so absurd it's left many wondering whether Legolas is fucking with us.
"I'm a Capricorn, so I crave routine," Bloom says at the start, which does not adequately prepare the reader for the information they're about to encounter. While Bloom tells The Sunday Times that he likes to check in on his baby daughter immediately upon waking, that's not the real start of his day. He marks that with 20 minutes of Buddhist chanting, after which he'll read a "bit of Buddhism" that he'll type up and share to his Instagram Story. Though, he notes, he tries to abstain from using his phone too much, as he doesn't "want to be sucked into the black hole of social media."
Next up is pre-breakfast — not his main one, Bloom hasn't "earned" it yet — which is typically "some green powders that I mix with brain octane oil, a collagen powder for my hair and nails, and some protein." He knows: "It's all quite L.A. really," he reflects. Once he's knocked back the concoction, he'll "go for a hike while I listen to some Nirvana or Stone Temple Pilots."
Then, around 9 a.m., Bloom allows himself solid foods. This meal is "usually porridge, a little hazelnut milk, cinnamon, vanilla paste, hazelnuts, goji berries, a vegan protein powder and a cup of PG Tips." In case you hadn't yet assumed this, Bloom notes that he's "90 percent plant-based," admitting that he'll abandon his ascetic regimen "maybe once a month" for "a really good piece of red meat." He continues: "I sometimes look at a cow and think, that's the most beautiful thing ever." (Been there.) For lunch, Bloom might indulge in a some "vegetables or a stew."
Of course, measuring little powders and brewing concoctions doesn't take up the entirety of Bloom's waking hours. He's a working man with cherished hobbies. For example, he's gotten really into Legos amid the pandemic, and likes to "dip in and out while I work." (While he "mostly" builds cars, he doesn't seem opposed to other types of constructions.)
For those wondering whether this is an actual interview or just parody, I encourage you to take a moment — you won't need long — to meditate on Bloom's past whims. This is a man who got caught shamelessly paddle-boarding fully naked, who never passes up an opportunity to raise his conviction that the Elves of Middle-earth were into Tantric sex, who proposed to Katy Perry in a champagne-filled helicopter on Valentine's Day. Once, in explaining that he had to abandon a temporary pledge of abstinence on account of getting too unbearably horny, he said, "I was really enjoying the way I was relating to women and to the feminine within myself."
That's the brain octane oil working.