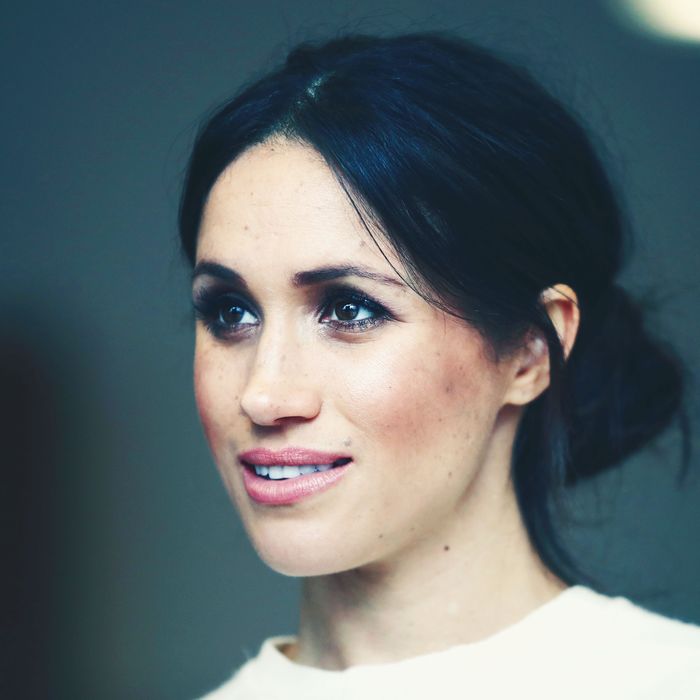 Meghan Markle.
Photo: Chris Jackson/Getty Images
Meghan and Harry's forthcoming tell-all conversation with Oprah is scheduled to air this weekend, and seeing as it's the first interview the couple has granted since stepping back from their royal duties in January 2020, it's expected to be juicy. According to CBS, Meghan will speak to "life as a royal, marriage, motherhood" and "how she is handling life under intense public pressure." During the interview, she and Harry say "some pretty shocking things," according to Oprah.
Needless to say, the palace doesn't seem thrilled about the conversation, and it seems royal insiders may be trying to smear her in advance of its release — or so suggests a spokesman for Meghan and Harry. Yesterday, the Times of London reported that royal aides informed the outlet that Meghan was the subject of a formal complaint filed in October 2018 by Jason Knauf, their former communications secretary, accusing her of bullying and claiming that she "drove two personal assistants out of the household and was undermining the confidence of a third staff member." Knauf now serves as chief executive of Prince William and Kate Middleton's Royal Foundation.
A spokesman for the Duke and Duchess of Sussex told the Times that the claims are nothing more than "a calculated smear campaign based on misleading and harmful misinformation." The spokesman also noted the timing of their release, adding, "It's no coincidence that distorted several-year-old accusations aimed at undermining the Duchess are being briefed to the British media shortly before she and the Duke are due to speak openly and honestly about their experience of recent years."
The statement continued: "The Duchess is saddened by this latest attack on her character, particularly as someone who has been the target of bullying herself and is deeply committed to supporting those who have experienced pain and trauma." Indeed, during Meghan's royal tenure, she suffered "almost unsurvivable" online abuse and was often the subject of ruthless, racist coverage by the British tabloids. It has also been suggested that palace insiders may have played a role in the negative coverage: Around the release of Finding Freedom, the definitive book about Meghan and Harry, author and longtime royals reporter Omid Scobie told the Cut that "some of the narratives being leaked out by courtiers or aides working within the households were things to make Meghan look bad."
While senior royal sources told the Daily Mail that the palace did not orchestrate the release of the complaints, Buckingham Palace declined to comment to the Times. They have since responded. On Wednesday, the palace announced in a statement that they are "clearly very concerned" about the allegations leveled by Meghan and Harry's former staff and will be launching an investigation into them.
A quite literal royal mess.
This post has been updated.