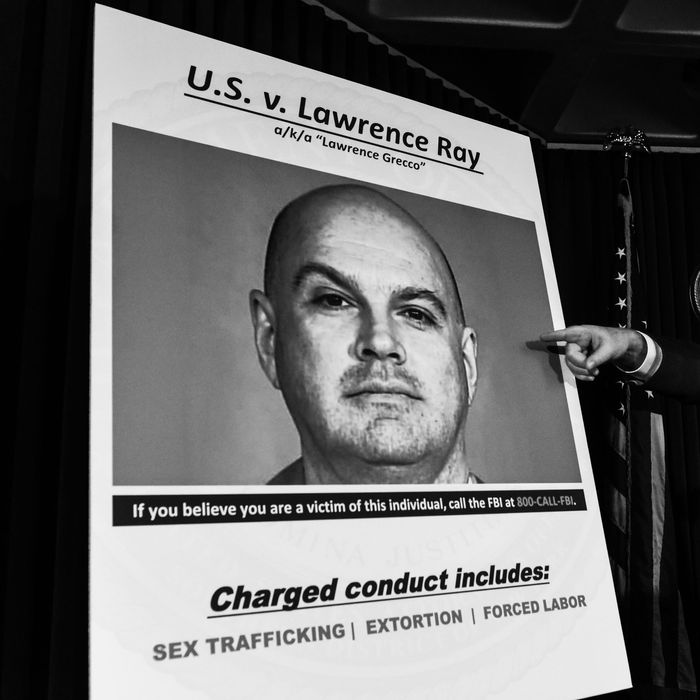 Lawrence Ray is accused of "psychologically manipulating and controlling" his daughter's roommates at Sarah Lawrence.
Photo: Stephanie Keith/Getty Images
In February 2020, Lawrence Ray, the man at the center of New York Magazine's story "The Stolen Kids of Sarah Lawrence," was arrested and indicted on charges including sex trafficking, extortion, and forced labor. As New York's story outlined, Ray, after moving into his daughter's college dormitory in 2010, allegedly manipulated and exploited her roommates, operating what was essentially a sex cult. As Geoffrey S. Berman, the U.S. Attorney for the Southern District of New York, charged that at the time of Ray's arrest, he subjected his victims to "grueling psychologically and physically abusive interrogations," which included tactics like sleep deprivation and threats of violence. The abuse they suffered, Berman said, was "almost unspeakable."
Initially, prosecutors considered a former student named Isabella Pollok, now 29, a victim in the case. However, she's now been charged. According to the New York Times, a new indictment, unsealed on January 29, names Pollok as a co-defendant who willingly joined Ray's "criminal scheme." Per the Times, the accusations include "helping [Ray] collect millions of dollars in profits from one of her former classmates whom prosecutors said he had forced to become a prostitute." Now, she's also facing various conspiracy charges, including racketeering, extortion, and sex trafficking. Both she and Ray have pleaded not guilty.
As New York reported, Pollok fell under Ray's sway in late 2010, following a bad breakup. "I'm 19, I was having a lot of difficulty making sense of things, I wasn't in a good place," Pollok told New York. "He started to help me kind of process and make sense of a lot of things I just couldn't make sense of." Per the report, Larry went on to spend many nights in Pollok's bedroom; in one particularly disturbing instance, Ray allegedly ordered Pollok and another one of his victims, a student named Daniel, to have sex in front of him. While Daniel eventually managed to escape Ray's influence, when Ray was arrested in New Jersey last year, Pollok — as well as another unidentified woman — was still living with him.
"Both are women he exploited and abused for years, including physical abuse and sexual exploitation," one of the prosecutors said last March. Months later, in August, prosecutors claimed that Ray was still communicating with the women while he was in jail and had "amassed videos that contain graphic sexual content of these two women, including sexual acts performed at Ray's direction that appear designed to debase and control them."
In cult cases in particular, the line between victim and accomplice is often a blurry one. As Taryn Merkl, a former federal prosecutor, told the Times, it is up to prosecutors to decide "where duress ends, and victimization can no longer be the understood reason for behavior that crosses the line over to more deliberate criminality."
At this time, it is unclear why prosecutors "chose to charge Ms. Pollok now or whether they still are seeking her cooperation against Mr. Ray, perhaps in return for a recommendation of leniency at sentencing," the Times reports. If Pollok is not willing to cooperate in the case against Ray, Rick Alan Ross, the founder of the Cult Education Institute, told the outlet, "she's cast her lot with Larry Ray." As Ross noted, the case draws parallels to another high-profile sex-cult case: the one involving NXIVM, which saw charges brought against five of leader Keith Raniere's female accomplices.
Meanwhile, her family is struggling to understand the unexpected charges, some of which carry life sentences, as they appear to see her as a victim of Ray's manipulation and abuse. "It is all under duress," her aunt, Liz Jeffrey, told the Times. "She has been under his spell for ten years."
While the pair was originally scheduled to stand trial in July, last month U.S. District Judge Lewis Liman pushed back the date and has yet to set a new one, the New York Post reports. Liman has also ordered Pollok to undergo psychological evaluation to determine whether she is fit to stand trial.