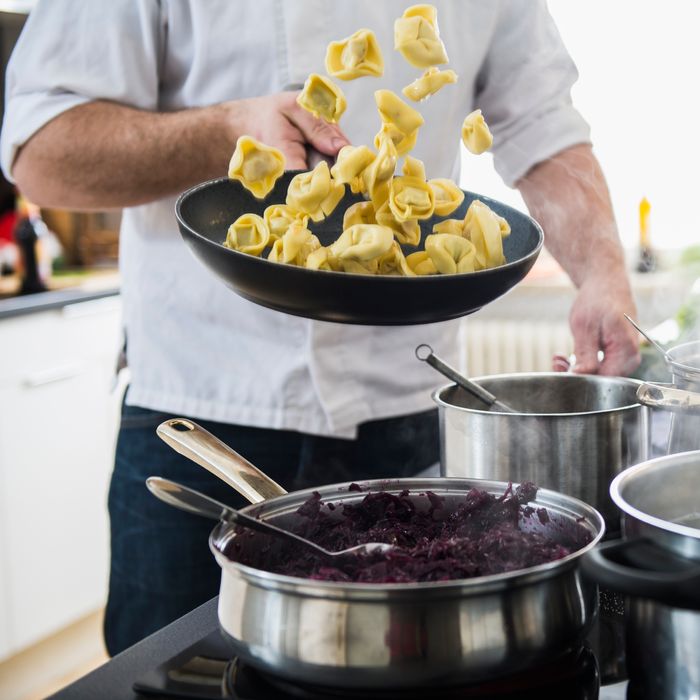 Sometimes that really is
amore
.
Photo: Getty Images/MITO images
A fugitive mafia boss has been hoisted by his own petard, which is in this case to say: identified via his own Italian cooking vlog. Interpol reportedly located Marc Feren Claude Biart — allegedly a member of the powerful 'Ndrangheta crime syndicate, based in the toe of Italy's boot — in the Dominican Republic, after spotting his tattoos in tutorials he and his wife posted to YouTube. For seven years, Biart evaded authorities seeking to arrest him on drug trafficking charges, but ultimately, police said it was his "love for Italian cuisine" that did him in.
Interpol views 'Ndrangheta as "one of the most extensive and powerful criminal organizations in the world" and also "the only Italian mafia organization present on every world continent." It also believes this syndicate thrives on "strong family ties and corrupt political and business practices," which "allow it to penetrate all areas of economic life." 'Ndrangheta's preferred enterprises reportedly include drugs (primarily cocaine), money laundering, extortion, and "the rigging of public contracts," not to mention murder. That's a lot of alleged crimes, and accordingly, Interpol has launched a three-year initiative targeting the 'Ndrangheta specifically.
In addition to Biart — accused, in 2014, of trafficking cocaine into the Netherlands — the agency arrested another supposed boss: Francesco Pelle. Per the Associated Press, Pelle had been previously convicted in Italy of vengefully taking out a hit on a rival mobster's wife, and was arrested in Lisbon while being treated for COVID-19. According to NPR, Italy is currently undertaking a massive mob trial, involving 335 defendants and potentially also more than 900 witnesses.
As for Biart, NBC reports that he spent five quiet years in the town of Boca Chica, keeping "his distance from the Italian community" and identifying himself only as Marc. But police apparently noticed his wife on YouTube, and this, combined with "the knowledge that the fugitive had previously worked at a restaurant in Italy," reportedly led them to Biart, who had always been careful to keep his face out of frame. Imagine, being so aware of the stakes yet determined to share your passion with the world, whatever the cost — even if it gets you arrested, and your cooking show removed from the internet. Ah well. Sometimes that really is amore.