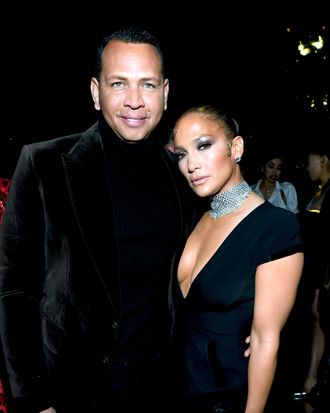 TOGETHER.
Photo: (C)Kevin Mazur/Getty Images
Excuse me, ahem, despite what you may have heard, a certain celebrity couple did NOT break up mere days ago, whatever a string of unnamed sources may have told the gossip magazines. Nope, Jennifer Lopez and Alex Rodriguez insist that, although they are "working through some things," "all the reports" of a split "are inaccurate." This statement went out to TMZ and to People, with the latter including a corroborating explanation from yet another anonymous informant purportedly close to the couple.
"They never officially broke up and talked about it but are still together," this person clarified, stressing: "They hit a rough patch. But were not broken up."
Also! Just to be very clear, specifically about the rumors that A-Rod had maybe cheated on his fiancée of two years with reality-TV personality Madison LeCroy (claims both parties deny), the source maintains that this hearsay "had no bearing on the rough patch at all." Apparently, the issue lately has been distance — J.Lo filming Shotgun Wedding in the Dominican Republic while A-Rod remains in Miami — and definitely not any infidelity, understood? No? Well, take it from this other person who separately told People: "This was not caused by a third party. Madison [LeCroy] or anyone else. They are working through things."
Meanwhile, A-Rod told some photographers on Saturday, "I'm not single," and on Sunday, J.Lo posted a TikTok montage that seemed to suggest the blogs had lied. So! Please be advised: J.Lo and A-Rod? Still getting married at some point, eventually. No break-ups here. Okay?? Okay!