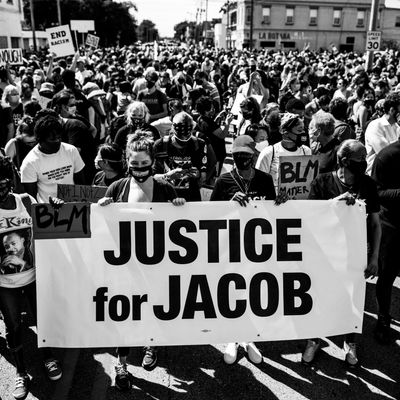 Jacob Blake.
Photo: Stephen Maturen/AFP via Getty Images
Jacob Blake, the Black man who was left paralyzed after a Wisconsin police officer fired half a dozen shots into his back at point-blank range last summer, is suing the officer. On Thursday, attorneys for Blake filed a federal civil rights lawsuit against Kenosha officer Rusten Sheskey, accusing him of excessive force, NPR reports.
"Nothing can undo this tragedy or take away the suffering endured by Jacob, his children, and the rest of the Blake family," Ben Crump, the high-profile civil-rights attorney representing Blake said in a statement. (Crump has also represented the families of George Floyd and other victims of racist police violence.) "But hopefully today is a significant step in achieving justice for them and holding Officer Sheskey answerable for his nearly deadly actions — actions that have deprived Jacob of his ability to walk."
The 19-page complaint, filed in the U.S. District Court for the Eastern District of Wisconsin, outlines the series of events that left Blake with "catastrophic, permanent injuries" and sparked massive protests. On August 23, 2020, Sheskey — along with Kenosha officers Vincent Arenas and Brittany Meronek — responded to a report about a domestic disturbance at Blake's son's eighth-birthday party, where two women had gotten into a verbal dispute. Witnesses say that Blake tried to de-escalate the situation, and that a pocketknife fell out of his pocket while doing so. In graphic video of the scene that went viral, two officers can be seen trailing Blake as he moves toward the driver's seat of his car. (The officers were reportedly trying to arrest Blake on an outstanding warrant.) According to the suit, Blake threw down the knife in the car and was prepared to surrender when Sheskey yanked him backward by his shirt and fired six shots into Blake's back. Blake's two young children were in the back seat of the car.
Sheskey's actions were "undertaken with malice, willfulness, and reckless indifference to the rights" of Blake, the lawsuit reads. "The hail of gunfire fired into the back of Mr. Blake in the presence of his children was excessive and unnecessary for which there must be accountability in a court of law." The suit also accuses Sheskey of putting Blake's two young children in "imminent danger" by using his gun just feet away from Blake's kids.
While Blake's children "escaped physical injury and avoided being hit by the stray bullet that fired into the SUV," reads a statement from one of Blake's lawyers, B'Ivory LaMarr, "they were forced to witness their father being gunned down only feet away from where they sat." Meanwhile, as emphasized by another of Blake's lawyers, Patrick Salvi II, "After various surgical procedures and an agonizing course of physical rehabilitation, Jacob remains unable to return to his job as a security guard and relies on others to assist him with the basic needs of daily living." Blake is seeking unspecified damages.
The lawsuit comes a little over two months after a Kenosha prosecutor declined to file criminal charges against Sheskey or any of the other officers involved, reasoning that he couldn't disprove Sheskey's claim that he was acting in self-defense because he feared Blake would stab him. The decision left Blake and his family "immensely disappointed," Crump said in a statement. He added that it "failed not only Jacob and his family but the community that protested and demanded justice." Meanwhile, Sheskey is still employed by the Kenosha Police Department, but is currently on administrative leave, the department confirmed to NPR.