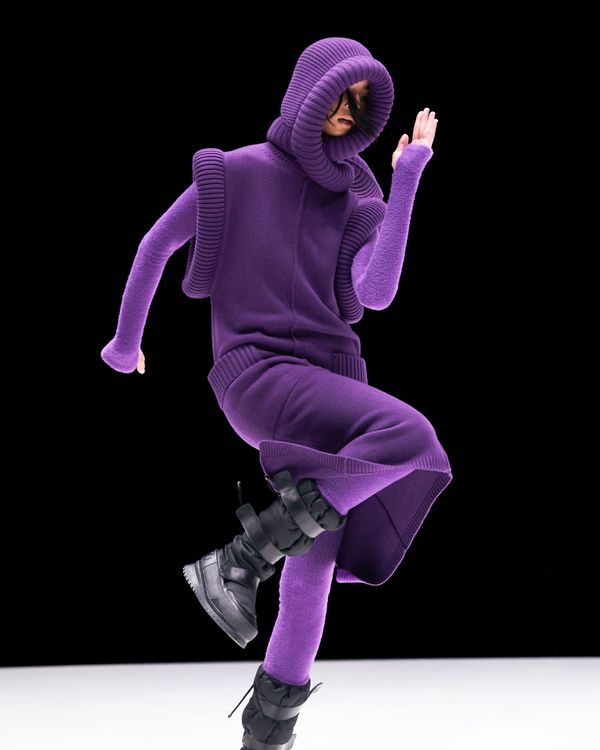 Photo: Alessandro Lucioni
When, in his show notes, designer Felipe Oliveira Baptista described Kenzo's fall 2021 collection as "a visceral yearning for life" and "a visceral lust for freedom," I really felt that. After I spent a year being cooped up in an emotional dark place, seeing the models dance so freely and cathartically in the presentation video reawakened a deep craving.
While I'm not ready to rage in Miami with reckless abandon, I am ready to get down on the dance floor. The question remains, however … what will I wear? Luckily, Kenzo had some suggestions: printed bodysuits and oversize jackets that double as comforters; both are ideal for untethered movement. But I'll gladly choose the purple knit dress, which, with its chunky ribbed sleeves, is still bold enough to qualify as a look without entering the territory of unpleasantly body-con, and the bonus hood is perfect for retreating when I realize that I don't remember how to socialize anymore. Whatever I choose to wear, it will be a celebration.
In fact, Baptista was celebrating the life of the brand's founder, Kenzo Takada, who passed away last October. "Nothing new could come out of just a polite and reverential look back at Kenzo's amazing legacy," Baptista said. "Space must be allowed for intuition, instinct, surprises, and accidents. Nothing new can be achieved without these."
Baptista sees this collection as a stark contrast to what fashion has become lately: formulaic, safe, and predictable. Rather, by transforming grief into something positive, he created a collection full of possibilities — "possibilities of a new narrative, a new collection, a new silhouette, new clothes, new functionalities, new sensualities. Possibilities of a new world. A world without borders, prejudices, and stereotypes," he said. In a way, it's also a metaphor for our collective experience. We have spent a year grieving, but things are really looking up. Let's make space for optimism. Let's dance!