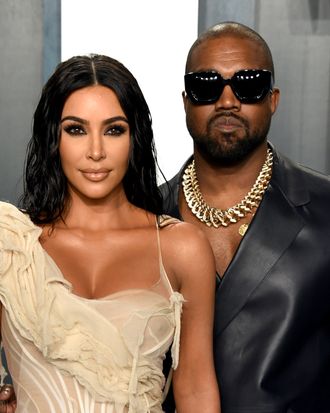 Kim Kardashian and Kanye West.
Photo: John Shearer/Getty Images
Since news broke that Kim Kardashian filed for divorce from Kanye West, burning questions have gone unanswered; questions like, Who will get the 14 gorgeous Friesian horses? and, Who will keep the haunted mansion? In a split that was reportedly amicable — Kim and Kanye intend to share custody of their four kids; nobody is contesting the terms of the prenup — the couple's Los Angeles home was said to be a point of contention. Apparently, Kim owns the land, while Kanye owns the house itself. An unusual situation, as you can see, but one that may now have a resolution. Per TMZ, the haunted mansion looks likely to go to Kim.
Why "haunted," you ask? Primarily because of the decor: Kim and Kanye stuck to a ghost palette and went heavy on the kind of empty vaulted hallway that looks like an echo. Many rooms have just a whisper of (very nice, it must be said) furniture. Kanye is extremely into design and led the charge on the minimalist aesthetic — "futuristic Belgian monastery" was how he put it to Architectural Digest — enlisting Axel Vervoordt to make over the "McMansion" Kim picked out. But Kim reportedly loves the house, too, and much of her family lives in the same Hidden Hills neighborhood.
Indeed, Kim herself has been living there with the couple's children — North, Saint, Chicago, and Psalm — for the past few months. Per TMZ, staying put would provide them "much-needed stability." Meanwhile, the tabloid doesn't say where Kanye might permanently move if all of this is true, although he has been at his Wyoming ranch for much of the pandemic.
And speaking of Wyoming, what of the 14 gorgeous Friesian horses?? Still no answers on that score, I'm afraid, although maybe that's one of the issues the final season of Keeping Up With the Kardashians will hash out.